Gold has affirmed its 'pet rock' status over the past 30 days
---
---
Gold hasn't done anything for more than a month. It gets derided as a "pet rock" because it has limited use for most investors, doesn't have any earnings, and doesn't pay any interest. For the past 30 days, it's lived up to its name.
Since peaking on August 6, gold has gone into consolidation mode. It hasn't set a 30-day high OR a 30-day low in 30 sessions now.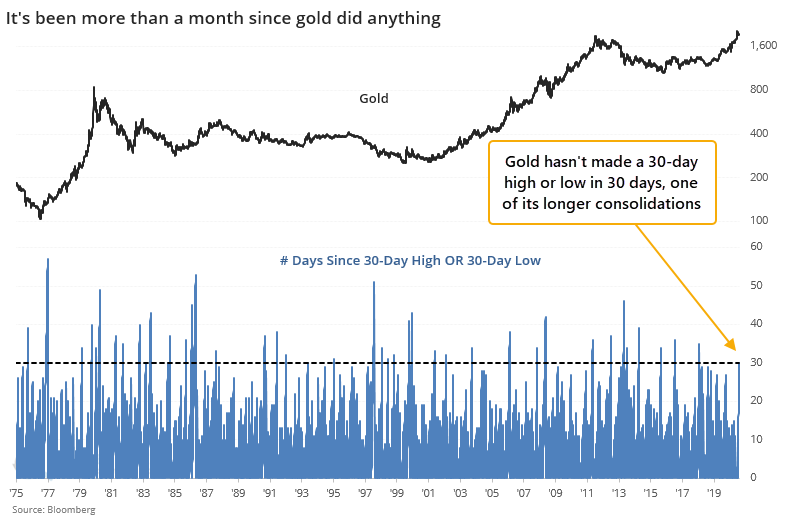 This is what's commonly referred to as a "triangle pattern" because, well, it looks like a triangle.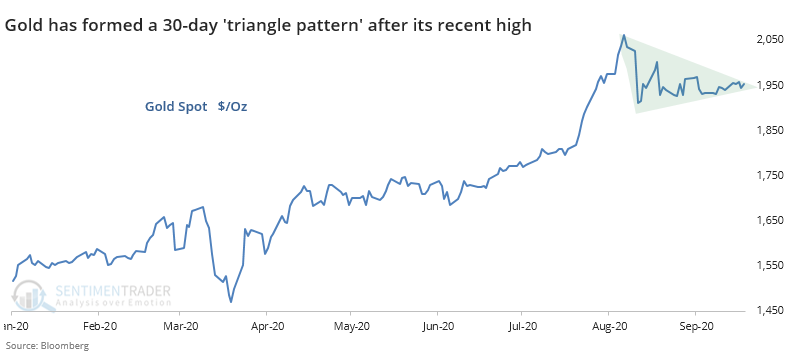 Instead of subjectively eyeballing chart patterns, when we go back to 1975 and look for every time when gold hit a 52-week high, then formed some version of the triangle pattern, its forward returns were mostly positive, with a caveat.
Because gold had been doing well, miners have been as well. Over the past 20 days, an average of more than 97% of gold mining stocks have held above their 200-day moving averages. That's among the best performances in nearly 30 years. The problem for the miners is they've never really been able to sustain this kind of momentum according to our Backtest Engine.
This is an abridged version of our recent reports and notes. For immediate access with no obligation, sign up for a 30-day free trial now.
We also looked at:
A deeper look at historical triangle patterns in gold, along with forward returns
What has happened since 1993 when almost all gold miners were above their 200-day averages
Recent instances of spikes in 52-week highs among gold miners
The Leading Economic Indicators have just popped above the 10-month moving average
The S&P 500 fell below its 50-day average for the first time in almost 6 months - a look at forward returns
The Nasdaq 100's 50-day average is rolling over

The post titled Gold has affirmed its 'pet rock' status over the past 30 days was originally published as on SentimenTrader.com on 2020-09-21.
At SentimenTrader.com, our service is not focused on market timing per se, but rather risk management. That may be a distinction without a difference, but it's how we approach the markets. We study signs that suggest it is time to raise or lower market exposure as a function of risk relative to probable reward. It is all about risk-adjusted expectations given existing evidence. Learn more about our service , research, models and indicators.
Follow us on Twitter for up to the minute analysis of market action.
Follow @sentimentrader