GE Booted From Dow As Russell And Nasdaq Hit Highs
---
---
This is an abridged version of our Daily Report.
Somebody turn on the lights
GE got booted from the DJIA after 100 years, after a similar stretch of poor returns from Alcoa when it was removed…and before it doubled during the next year.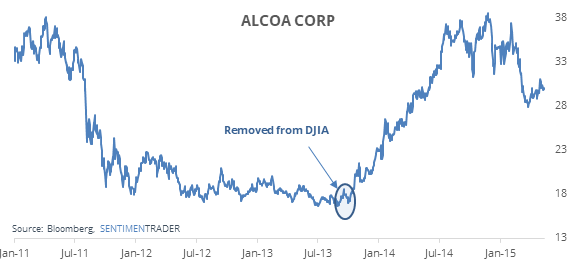 Other stocks that got removed from the Dow did fine going forward, with a slightly better chance of a 20% gain versus a 20% loss.
Old school vs new school
The old school S&P and Dow indexes are lagging the Russell and Nasdaq. The former are down more than 3% from their highs while the latter hit new highs on Wednesday.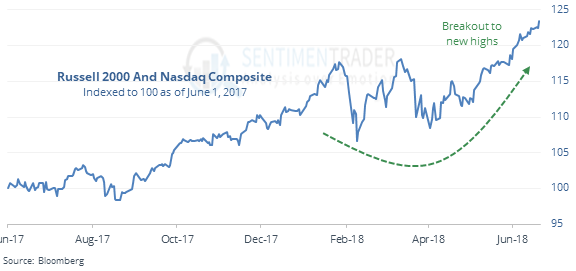 That has led to better performance in the laggards going forward.
Needing a shot of java
Coffee is back to being the most-hated commodity, with an Optimism Index of 22. It has been in a persistent bear market for 7 years, and it has been incessant over the past year. Even so, according to the Backtest Engine, coffee has rallied 80% of the time.
At least it looks nice on a ring
Platinum is giving coffee a run for its money, with Optimism sinking to a lowly 23. The Backtest Engine shows that platinum has rallied 70% of the time.


F
or access to the full report, indicators, charts, screens, and Backtest Engine, log in or sign up for a free 30-day trial today.
The post titled GE Booted From Dow As Russell And Nasdaq Hit Highs was originally published as on SentimenTrader.com on 2018-06-21.
At SentimenTrader.com, our service is not focused on market timing per se, but rather risk management. That may be a distinction without a difference, but it's how we approach the markets. We study signs that suggest it is time to raise or lower market exposure as a function of risk relative to probable reward. It is all about risk-adjusted expectations given existing evidence. Learn more about our service , research, models and indicators.
Follow us on Twitter for up to the minute analysis of market action.
Follow @sentimentrader