Fund managers like tech stocks...a lot
---
---
A new bull market has begun.
At least, that's the take from the latest results of the monthly Global Fund Manager Survey conducted by Bank of America. The survey of more than 200 asset managers, with nearly $650 billion under management, reflects views through September 10.
Since a new bull market has begun and technology stocks are leading the charge, it makes sense that the managers are the most overweight that sector.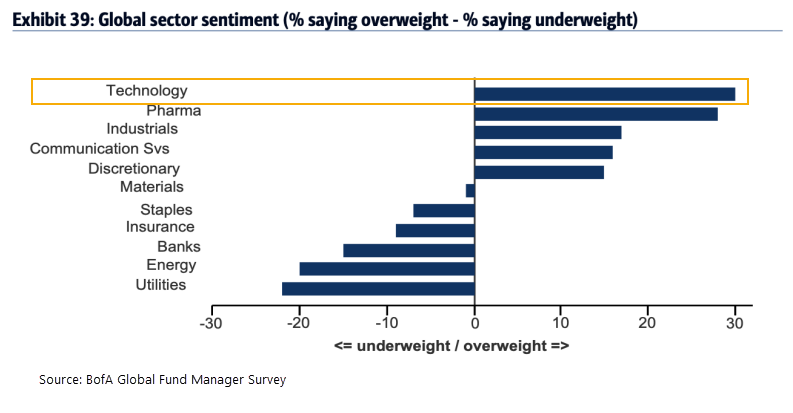 And yet despite being the most overweight in that sector, the managers also believe it's the most crowded trade. They're heavily overweight, more than any other sector or asset...and so is everyone else.
According to Michael Hartnett, Chief Investment Strategist at BofA Securities, if you're long technology stocks in the U.S. then you're a part of the most "crowded trade" of all-time.
We go back to 2013 and look at the most crowded trade for every month, then look at that asset's (or sector's) returns over the next 1, 3, 6, and 12 months. While fund managers might have their pulse on what's crowded, that hasn't necessarily translated to future returns.
This is an abridged version of our recent reports and notes. For immediate access with no obligation, sign up for a 30-day free trial now.
We also looked at:
A full table showing future returns after each asset becomes the most crowded
What happens after transportation stocks recover from a bear market
Confidence in the German economy has soared, what that's meant for German and U.S. equities

The post titled Fund managers like tech stocks...a lot was originally published as on SentimenTrader.com on 2020-09-17.
At SentimenTrader.com, our service is not focused on market timing per se, but rather risk management. That may be a distinction without a difference, but it's how we approach the markets. We study signs that suggest it is time to raise or lower market exposure as a function of risk relative to probable reward. It is all about risk-adjusted expectations given existing evidence. Learn more about our service , research, models and indicators.
Follow us on Twitter for up to the minute analysis of market action.
Follow @sentimentrader