Fund Managers Ignore Cash As Streaks End
---
---

This is an abridged version of our Daily Report.
Fund managers still hate cash
Mutual fund managers are holding a near-record low amount of cash according to the latest figures. That was easier to justify when interest rates were nearly zero but gets harder as rates rise.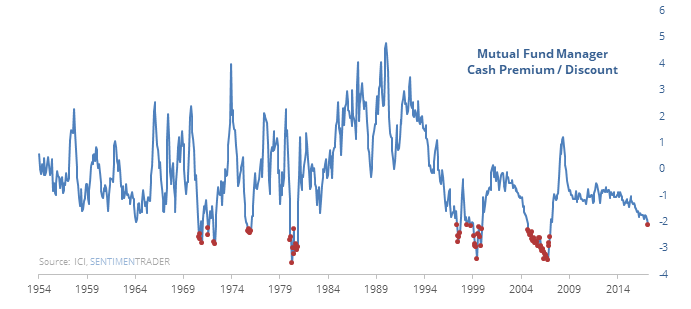 Their cash deficit is now more than 2% for the first time since 2007.
Another streak ended
The S&P went nearly 200 days without suffering back-to-back declines of more than 0.25%. That was, by far, an all-time record, though there have been a dozen streaks of more than 3 months.

The end of those led to unremarkable returns, with a slight upside bias over the longer-term.
The president's address
President Trump is giving an official State Of The Union address on Tuesday. Markets have rallied strongly heading into the address, raising the risk of a "sell the news" reaction. Whether these addresses are actually news is questionable, and forward returns were good.
Bottom of the range
Over the past 2 years, the S&P 500 fund, SPY, has closed in the bottom 25% of its intraday range on back-to-back days 14 times. Every one of those led to a rebound the next day.
Bad breadth
This is also the worst back-to-back breadth days since June 27, 2016, with fewer than 20% Up Issues on the NYSE.
For access to the full report, indicators, charts, screens, and Backtest Engine, log in or sign up for a free 30-day trial today.
The post titled Fund Managers Ignore Cash As Streaks End was originally published as on SentimenTrader.com on 2018-01-31.
At SentimenTrader.com, our service is not focused on market timing per se, but rather risk management. That may be a distinction without a difference, but it's how we approach the markets. We study signs that suggest it is time to raise or lower market exposure as a function of risk relative to probable reward. It is all about risk-adjusted expectations given existing evidence. Learn more about our service , research, models and indicators.
Follow us on Twitter for up to the minute analysis of market action.
Follow @sentimentrader