Foreigners Flood In As Hard Economic Data Rebounds
---
---
This is an abridged version of our recent reports and notes. For immediate access with no obligation, sign up for a 30-day free trial now.
Foreign flow
Foreign investors have started to come back to U.S. stocks after a year of net selling, as we saw earlier this week.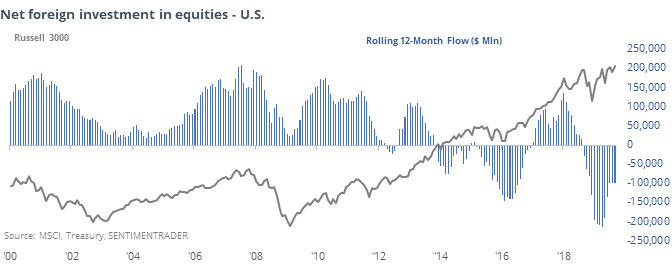 Among other major markets, foreign entities are still mostly net sellers, especially in Switzerland, France, and Japan.
Hard data rebound
Economic surprises are turning up, which is mostly a good thing for stocks. Among those surprises, the best are in "hard" economic reports as opposed to "soft" ones like consumer surveys.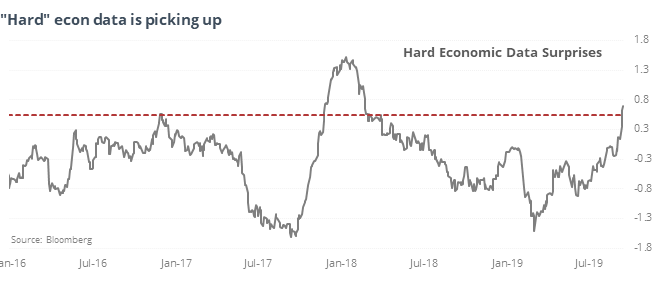 When hard economic data surprises to the degree it has recently, it has been a good sign for stocks, not so much for the dollar.

The latest Commitments of Traders report was released, covering positions through Tuesday
The 3-Year Min/Max Screen shows that "smart money" hedgers continued to build their already-extreme long exposure to sugar. They're holding more than 15% of open interest net long for the first time since 2004. They covered a little silver, sold a little gold, and their total metal holdings is still near a record short exposure.
No sudden movement
After such a whippy market in August, September has seen 6 sessions within 10 days closing within 0.1% of the prior day's close. They say "never short a dull market", and Troy shows that the S&P did consistently rise going forward, especially over the next three months.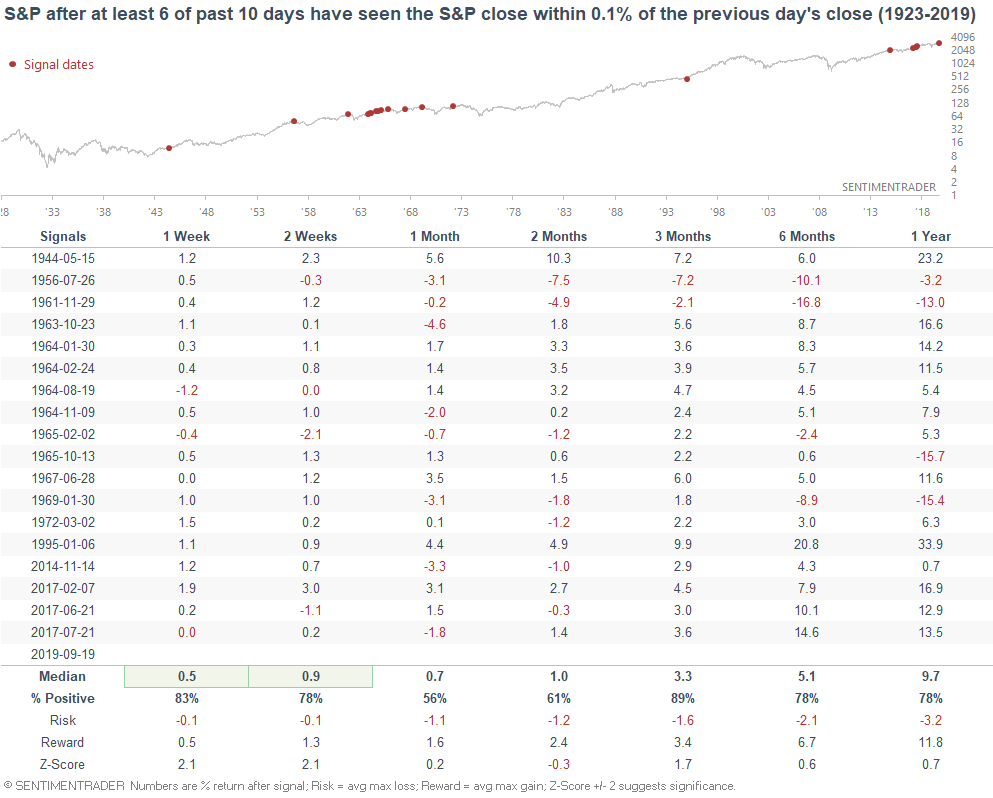 Related Posts:
---
Tagged As:
The post titled Foreigners Flood In As Hard Economic Data Rebounds was originally published as on SentimenTrader.com on 2019-09-23.
At SentimenTrader.com, our service is not focused on market timing per se, but rather risk management. That may be a distinction without a difference, but it's how we approach the markets. We study signs that suggest it is time to raise or lower market exposure as a function of risk relative to probable reward. It is all about risk-adjusted expectations given existing evidence. Learn more about our service , research, models and indicators.
Follow us on Twitter for up to the minute analysis of market action.
Follow @sentimentrader