Foreigners Are Selling, And That's A Good Sign
---
---
Home country bias
The latest data from the Treasury shows that foreign investors have been selling U.S. stocks at a record pace. They've sold an average of $17 billion per month for the past year.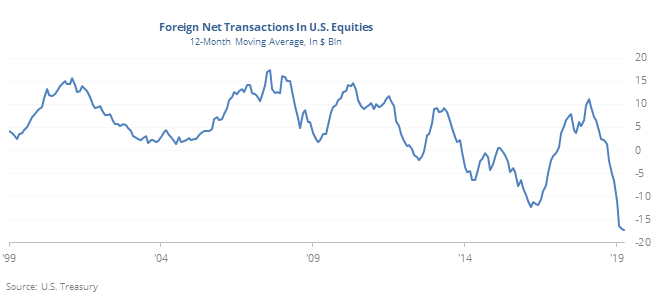 That accounts for about 0.05% of the total market cap of U.S. equities, the most in 30 years. During that time, they've proved to be bad market timers, with extremes in their buying and selling activity coinciding with peaks and troughs in stocks.
No trust
Individual investors have little trust in stocks despite what has been a healthy market environment. Their average Bull Ratio under similar conditions is 58%, compared to only 44% this week.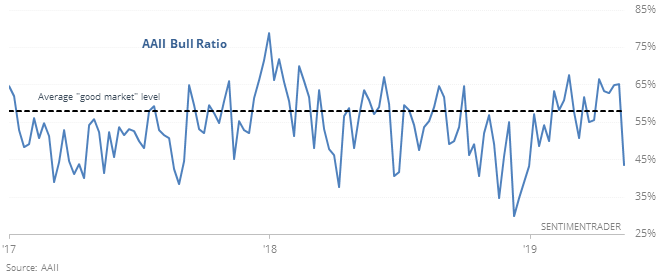 When it has been as low as this during similarly good longer-term markets, stocks did well.
Closing the gap
Jitters over the weekend triggered a large gap down on Monday, which was closed (for a while) on Thursday when stocks traded above Friday's close. That's a large gap to fill in less than a week. And it's not necessarily a good short-term sign, as we learned in a premium note. During bull markets, especially, the S&P had a strong tendency to pull back in the days ahead.
Hedging
There have been more puts than calls traded on the CBOE for the past 7 sessions, a streak matched 25 times in the past 25 years. Forward returns were okay over the next 1-3 months. When the S&P 500 was above its 200-day average at the time, 9 of the 12 streaks led to rallies over the next month.
This post was an abridged version of our previous day's Daily Report. For full access, sign up for a 30-day free trial now.

Related Posts:
---
Tagged As:
The post titled Foreigners Are Selling, And That's A Good Sign was originally published as on SentimenTrader.com on 2019-05-17.
At SentimenTrader.com, our service is not focused on market timing per se, but rather risk management. That may be a distinction without a difference, but it's how we approach the markets. We study signs that suggest it is time to raise or lower market exposure as a function of risk relative to probable reward. It is all about risk-adjusted expectations given existing evidence. Learn more about our service , research, models and indicators.
Follow us on Twitter for up to the minute analysis of market action.
Follow @sentimentrader