Foreign investors fall back in love with U.S. stocks
---
---
Almost exactly 5 years ago, we saw what appeared to be outright hatred of U.S. stocks by foreign investors. During the spring and summer of 2015, foreign investors were consistent, and heavy, sellers of U.S. equities.
Times have changed.
Inflows from foreign investors have been consistent enough that the 12-month sum of net flows is now just under $200 billion, challenging the highest in more than 40 years.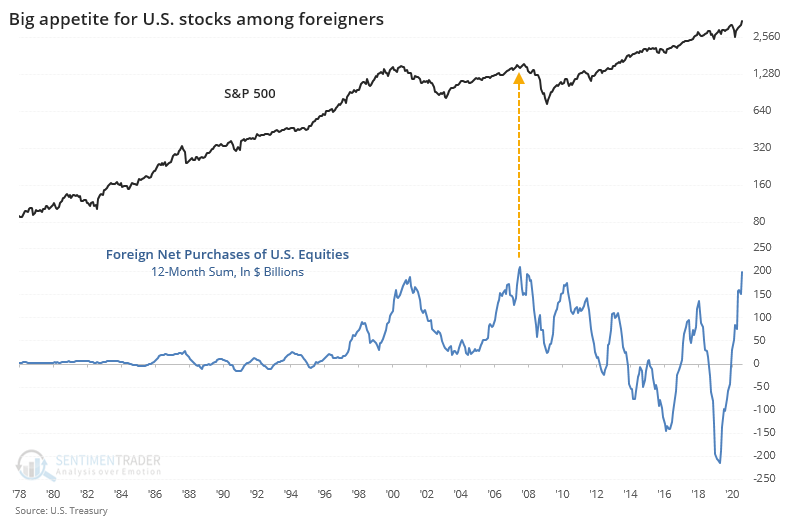 The value of the U.S. equity market has grown substantially since then, however, so when expressed as a percentage of market capitalization, it's not nearly as extreme. Back then, the 12-month inflow accounted for more than 1% of U.S. market cap, versus "only" 0.5% now.
While this data always looks troubling on a chart, when we look at the numbers, it hasn't been a reliable reason to become cautious about future returns.
---
What else is happening
These are topics we explored in our most recent research. For immediate access with no obligation, sign up for a 30-day free trial now.
What foreign investor flows look like relative to U.S. market capitalization
Forward returns in the S&P 500 when inflows reach the current level since 1977
Options traders pulled back on speculative activity last week
What happens in corn, cotton, and wheat when they become overbought with high investor optimism
---
Investors are confident and volatility is returning. In the video below, Brad Lamensdorf of Active Alts shows why investors may want to freshen up their portfolios for the coming months.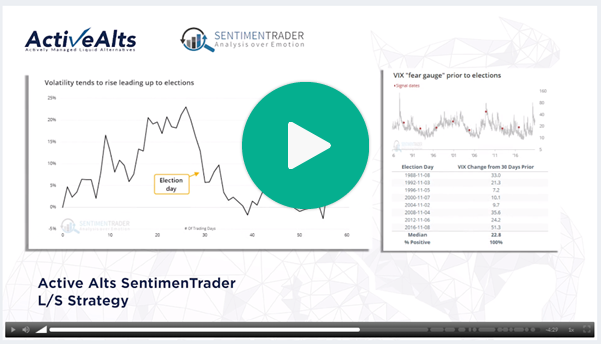 ---
Stat Box

On Monday, more than 90% of all volume on the NYSE flowed into securities that declined on the day. That's the heaviest selling pressure in more than 80 sessions. The last 3 times that a streak of more than 3 months without a 90% down day ended, stocks continued to suffer weeks, and several percentage points, of losses.
---
Sentiment from other perspectives
We don't necessarily agree with everything posted here - some of our work might directly contradict it - but it's often worth knowing what others are watching.
1. Why might foreign flows be important? Because they own 40% of U.S. corporate stocks - Tax Policy Center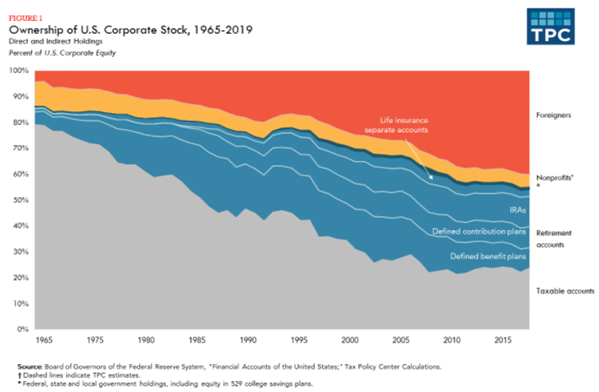 2. For the 1st time in months, traders are holding more put options than call options on the VIX "fear gauge" - Wall Street Journal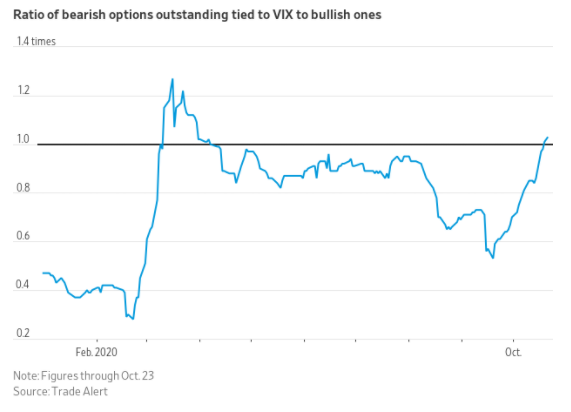 3. That's due in part because traders have been trading more puts than calls in recent weeks - Bloomberg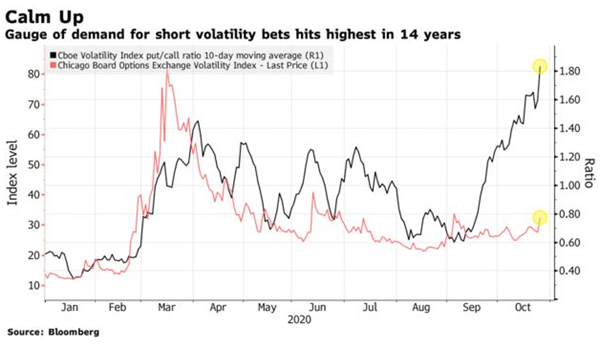 4. Put trading in the VIX has helped to push overall "bearish" trading activity to the highest level in months - Daily Shot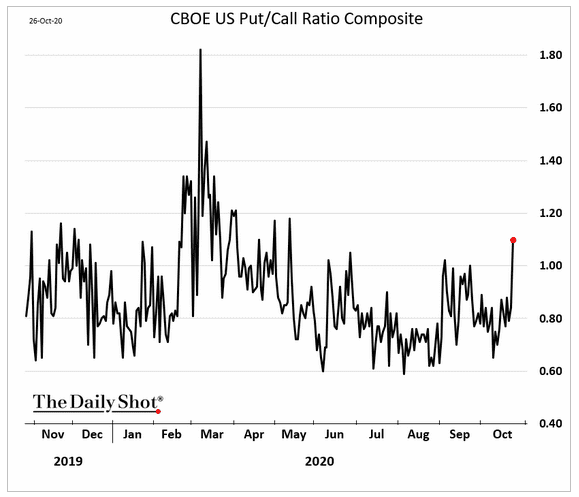 Related Posts:
---
Tagged As:
The post titled Foreign investors fall back in love with U.S. stocks was originally published as on SentimenTrader.com on 2020-10-27.
At SentimenTrader.com, our service is not focused on market timing per se, but rather risk management. That may be a distinction without a difference, but it's how we approach the markets. We study signs that suggest it is time to raise or lower market exposure as a function of risk relative to probable reward. It is all about risk-adjusted expectations given existing evidence. Learn more about our service , research, models and indicators.
Follow us on Twitter for up to the minute analysis of market action.
Follow @sentimentrader