Financial conditions have never been easier...or bubbly
---
---
Never been easier
According to Bloomberg data, this is among the easiest times ever for investors. Financial conditions are about as good as they get.
the Bloomberg U.S. Financial Conditions Index (FCI) has been rising along with stocks. While that's something of a tautology since the FCI includes stocks in the calculation, it's not a driving force. Per Bloomberg:
"The Bloomberg U.S. Financial Conditions Index tracks the overall level of financial stress in the U.S. money, bond, and equity markets to help assess the availability and cost of credit. A positive value indicates accommodative financial conditions, while a negative value indicates tighter financial conditions relative to pre-crisis norms."
With the S&P 500 recently moving to all-time highs, the FCI has approached 1.0. While it can go higher, this is for all practical purposes a maximum reading. There is a contrary nature to financial conditions, though, especially over the medium-term.
When those financial conditions include "bubble" assets, we're at a record extreme dating back 30 years.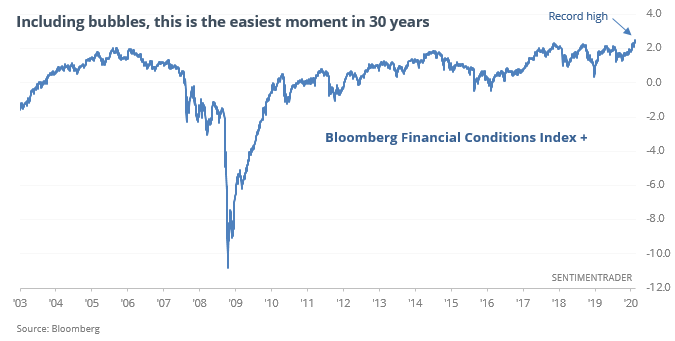 When FCI+ exceeded 2.0, much less the 2.5 level it's at now, future returns were not impressive over the short- to medium-term.
Growth vs. Value
And finally, Bloomberg noted that growth stocks have surged in comparison to value stocks. This isn't surprising given how much tech stocks have rallied.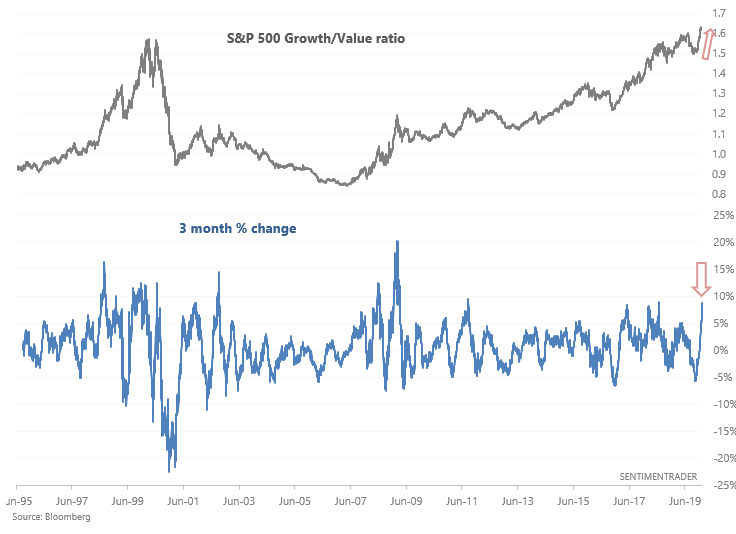 When investors/traders preferred growth over value this much in the past, the U.S. stock market's returns over the next month were consistently weak.

This is an abridged version of our recent reports and notes. For immediate access with no obligation, sign up for a 30-day free trial now.
We also looked at:
Not a single one of our core indicators have shown pessimism for 3 days in a row
Industrial production has been negative for 5 months - what happens next
Consumer sentiment has hit an 18-month high
Our Optimism Index for the XLK fund is stretched
What happens when stocks rise along with a surge in Bitcoin
High beta stocks are falling behind low volatility ones

Related Posts:
---
Tagged As:
The post titled Financial conditions have never been easier...or bubbly was originally published as on SentimenTrader.com on 2020-02-18.
At SentimenTrader.com, our service is not focused on market timing per se, but rather risk management. That may be a distinction without a difference, but it's how we approach the markets. We study signs that suggest it is time to raise or lower market exposure as a function of risk relative to probable reward. It is all about risk-adjusted expectations given existing evidence. Learn more about our service , research, models and indicators.
Follow us on Twitter for up to the minute analysis of market action.
Follow @sentimentrader