Financial conditions are recovering from epic plunge
---
---
In a mid-February report, we showed that financial conditions were as good as it gets. The best in 30 years, at least.
March changed that in a hurry. Conditions when from the best-ever to one of the worst-ever in a matter of weeks. The Bloomberg Financial Conditions + index (BFC+) went from +2 to -2 in only three weeks, a record drop.
Per Bloomberg:
The Bloomberg Financial Conditions index tracks the overall level of financial stress in the U.S. money, bond, and equity markets to help assess the availability and cost of credit. A positive value indicates accommodative financial conditions, while a negative value indicates tighter financial conditions relative to pre-crisis norms. Bloomberg also calculates a Financial Conditions + index which includes all the elements of the BFCI index as well as indicators of asset-price bubbles, which also have an effect on financial conditions. These include tech-share prices, the housing market, and deviations from equilibrium yield levels."
The rally off the March low has eased those conditions, however, and the index has reversed much of the decline.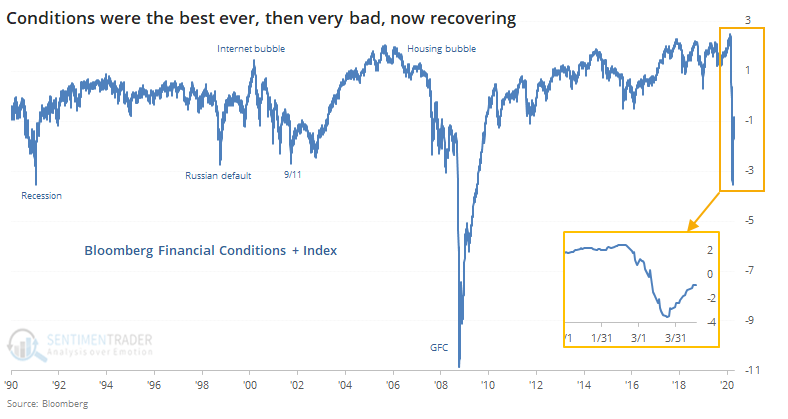 The first two were excellent signals that the recovery was in force and sustainable, with excellent gains and very little risk in the months ahead. Like so many other indicators have shown, the first post-panic moves in October-November 2008 were a head-fake and it preceded some painful months for those who bought into the initial recovery.
This is an abridged version of our recent reports and notes. For immediate access with no obligation, sign up for a 30-day free trial now.
We also looked at:
A closer look at price performance following financial condition recoveries
Curiously high volume has been flowing into declining stocks
What happens to energy stocks after big drops in crude oil rig counts
Earnings expectations are plunging
The S&P 500's weekly RSI is recovering from a deeply oversold condition
The S&P is above its 50-day average, but few of its members are
The VIX has dropped for 4 consecutive weeks
More sectors are showing extreme optimism
Commodities have been crunched relative to stocks

The post titled Financial conditions are recovering from epic plunge was originally published as on SentimenTrader.com on 2020-04-20.
At SentimenTrader.com, our service is not focused on market timing per se, but rather risk management. That may be a distinction without a difference, but it's how we approach the markets. We study signs that suggest it is time to raise or lower market exposure as a function of risk relative to probable reward. It is all about risk-adjusted expectations given existing evidence. Learn more about our service , research, models and indicators.
Follow us on Twitter for up to the minute analysis of market action.
Follow @sentimentrader