Few S&P Stocks Above Average As Copper Baffles Bulls
---
---
This is an abridged version of our Daily Report.
The biggest divergence since 2000
As the S&P 500 hits a 50-day high, too few of its members are trading above their short-, medium, and long-term averages. The percentage of stocks trading above their averages is far below what we usually see.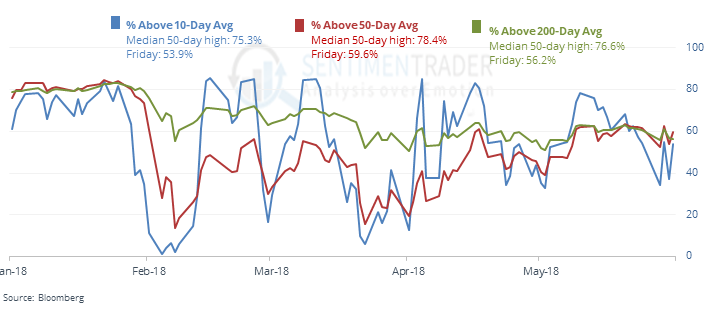 The last time it diverged this much was in 2000, but there were many days in 1998-99 that saw gains.
Copper causing consternation
Copper is lagging the broader commodity market by the most in years. That's taken as a warning sign of waning industrial demand, a bad sign for stocks. It has not been a good predictor for stocks, or any other market for that matter.
The latest Commitments of Traders report was released, covering positions through Tuesday.
According to the 3-Year Max/Min Screen, "smart money" hedgers moved to a new multi-year long position in 10-year Treasury futures. According to the Backtest Engine, over the past 20 years when hedgers held more than 17% of the open interest in 10-year futures, the 10-year rallied over the next three months 96% of the time.
Cotton, the fabric of (speculators') lives
The Optimism Index on cotton has jumped to 85, the highest in a decade. According to the Backtest Engine, over the past 20 years such high optimism has led to a decline over the next six months every time.


F
or access to the full report, indicators, charts, screens, and Backtest Engine, log in or sign up for a free 30-day trial today.
The post titled Few S&P Stocks Above Average As Copper Baffles Bulls was originally published as on SentimenTrader.com on 2018-06-04.
At SentimenTrader.com, our service is not focused on market timing per se, but rather risk management. That may be a distinction without a difference, but it's how we approach the markets. We study signs that suggest it is time to raise or lower market exposure as a function of risk relative to probable reward. It is all about risk-adjusted expectations given existing evidence. Learn more about our service , research, models and indicators.
Follow us on Twitter for up to the minute analysis of market action.
Follow @sentimentrader