Fear And Loathing In Bonds; Energy Apathy
---
---
This is an abridged version of our Daily Report.
Fear and loathing in junk bonds
High-yield bonds had a very bad day on Tuesday, with extremely poor breadth and sentiment.
On Tuesday alone, nearly half of all high-yield bonds declined on the day, they went from an almost even number of 52-week highs and 52-week lows, to seeing 300 more bonds at new lows than new highs, traders pulled a large amount from the popular HYG and JNK funds and that helped push the average discount on HYG and JNK past 0.5%, which is large for an ETF.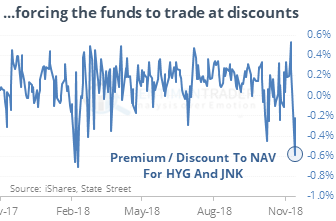 The other times it was this bad, that market typically rallied, especially outside of the financial crisis.
Energy apathy
The ratio of Energy stocks to the S&P is at a 17-year low, pushing their weight in the index under 5.5%. The few other times it was this low, the sector rallied strongly on both an absolute and relative basis. Six months later, the stocks were higher each time by an average of more than 20%, and with a 10-to-1 reward-to-risk ratio.
Oil contagion
There is concern that the collapse in crude has worrisome implications for energy stocks or the broader market. In a premium note, we looked at forward returns in the Energy sector and the S&P 500 after all the signals shown in the three studies in Tuesday's report. Over the next two months, the Energy sector was higher 70% of the time with a 5.8% average return.
Hard to beat cash
Only one of the Fidelity Select sector mutual funds is beating a return on cash, and that fund is focused on gold. There have been 97 other days in the past 30 years when this has happened.




Related Posts:
---
Tagged As:
The post titled Fear And Loathing In Bonds; Energy Apathy was originally published as on SentimenTrader.com on 2018-11-15.
At SentimenTrader.com, our service is not focused on market timing per se, but rather risk management. That may be a distinction without a difference, but it's how we approach the markets. We study signs that suggest it is time to raise or lower market exposure as a function of risk relative to probable reward. It is all about risk-adjusted expectations given existing evidence. Learn more about our service , research, models and indicators.
Follow us on Twitter for up to the minute analysis of market action.
Follow @sentimentrader