Fading Confidence; Historic Kick-Off Breadth; High-Yield Bond Buying
---
---
This is an abridged version of our Daily Report.
Fading confidence
Preliminary readings on Consumer Confidence were well below economists expected, and showed a large decline from the recent peak.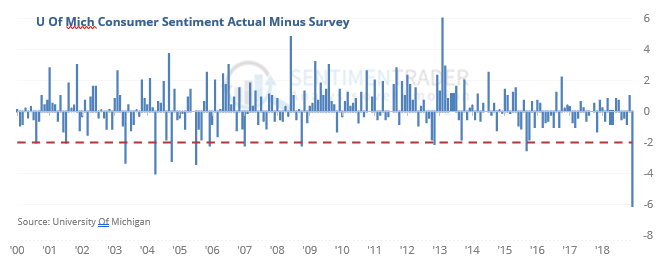 Fading confidence tends to be more of a negative than positive until it reaches an extreme, and the S&P's risk was higher than normal when seeing readings like this.
Kick-off breadth
There has been ample evidence since January 4 that we were seeing something different this time in terms of the eagerness of buyers. That has persisted. As a result, over the past month, we've seen breadth swing from one extreme to the other, to an extent that has been matched only twice since 1940, and which both kicked off major bull markets.
High yield keeps going higher
Like in the stock market, the high-yield bond market has enjoyed exceptionally broad-based buying. For the past 3 weeks, there has only been one day with more declining bonds than advancing ones, and at least one session when more than a net 40% of the junk bonds advanced.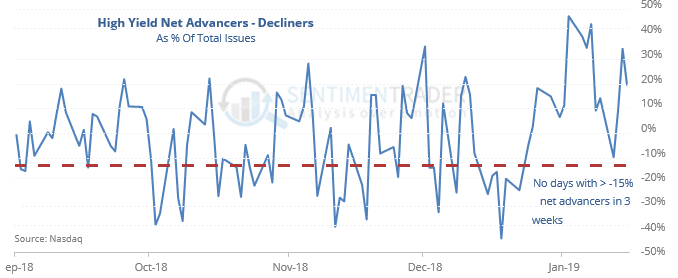 As much as we can read into a sample size of four, the behavior following these stretches was relatively consistent. Each of them saw the HYG fund pull back over the next 2-4-weeks, and those pullbacks served as excellent staging areas for the next phase of a longer-last rally.
Contracting debt
Margin debt declined in December and is now down 17% from its peak. Cash levels rose, shrinking investors' negative net worth by about a third. None of these are abnormal given the move in stocks and none are yet extreme in any sense.




The post titled Fading Confidence; Historic Kick-Off Breadth; High-Yield Bond Buying was originally published as on SentimenTrader.com on 2019-01-22.
At SentimenTrader.com, our service is not focused on market timing per se, but rather risk management. That may be a distinction without a difference, but it's how we approach the markets. We study signs that suggest it is time to raise or lower market exposure as a function of risk relative to probable reward. It is all about risk-adjusted expectations given existing evidence. Learn more about our service , research, models and indicators.
Follow us on Twitter for up to the minute analysis of market action.
Follow @sentimentrader