Everything "Emerging" Has Declined As S&P Holds Firm
---
---
This is an abridged version of our Daily Report.
Nowhere to hide
Emerging market stocks, bonds, and currencies have all declined steadily this year.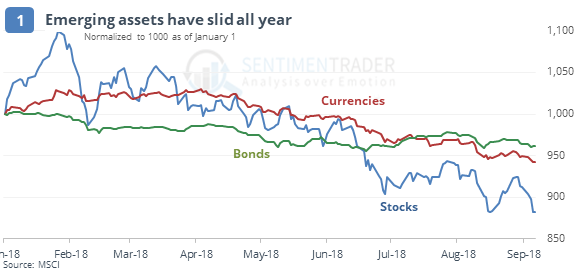 The three asset classes have declined for an average of 150 days since they peaked, ranking among the longest, broadest declines in 30 years. Similar declines led to mixed returns in the stocks, but good returns in the bonds and currencies.
No worries for the U.S.
Despite the mess in emerging markets, and a near 20% decline in those stocks, the S&P 500 has remained near 1% of its own high. Over the past three decades, this has only happened in the 1990s, so future returns were excellent for the S&P, not so much for the lagging emerging market stocks.
Letting off the gas
Energy contracts are the most-loved among investors. The Optimism Index for unleaded gas is just now reversing from above 80. According to the Backtest Engine, the other times it has done this in 2018 (Jan 24, May 23, Jul 31), unleaded lost more than 5% over the next month.
F
or access to the full report, indicators, charts, screens, and Backtest Engine, log in or sign up for a free 30-day trial today.
Related Posts:
---
Tagged As:
The post titled Everything "Emerging" Has Declined As S&P Holds Firm was originally published as on SentimenTrader.com on 2018-09-07.
At SentimenTrader.com, our service is not focused on market timing per se, but rather risk management. That may be a distinction without a difference, but it's how we approach the markets. We study signs that suggest it is time to raise or lower market exposure as a function of risk relative to probable reward. It is all about risk-adjusted expectations given existing evidence. Learn more about our service , research, models and indicators.
Follow us on Twitter for up to the minute analysis of market action.
Follow @sentimentrader