Even as stocks tickled new highs, a historic thrust in breadth
---
---
Another thrust into the new year

Over the past couple of weeks, we have outlined several breadth thrusts in the broader market and some individual sectors.
Now, the relatively broad-based nature of the recent rise has also triggered a thrust in NYSE Up Issues. Over the past 2 weeks, an average day has witnessed 62% of securities advancing.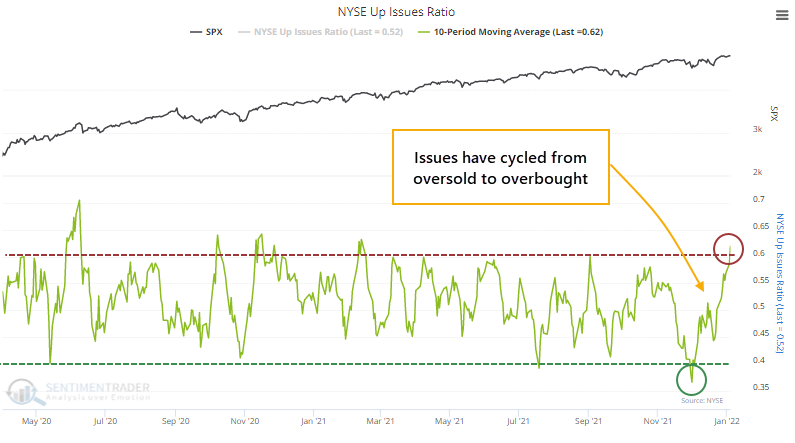 More than 63% of volume has been focused on those advancing securities, also triggering a thrust in NYSE Up Volume.
There are an infinite number of ways to measure breadth and thrusts. We don't subscribe to the idea that there are official rules for either. We test them from many different perspectives with the sole purpose of trying to discover whether investors are eager to own stocks or not and what that might suggest for how they'll behave going forward.
When both the 10-day Up Issues and Up Volume ratios cycle from below 40% to above 60% within 30 days, it suggested that investors will keep buying, especially when the S&P 500 was within correction territory of less than a 10% drawdown from a multi-year high.

Stat box



The Invesco India ETF (PIN) just ended a streak of 10 straight days of gains. That's the fund's 2nd-longest win streak since its inception, next to an 11-day win streak in early April 2011.
Not a great time for gas
Jay took an in-depth look at seasonality in natural gas, and the implications for funds like KOLD.
The chart below displays the annual seasonal trend for natural gas futures. Between the start of the year and trading day of the year (TDY) #41, this market tends to show weakness.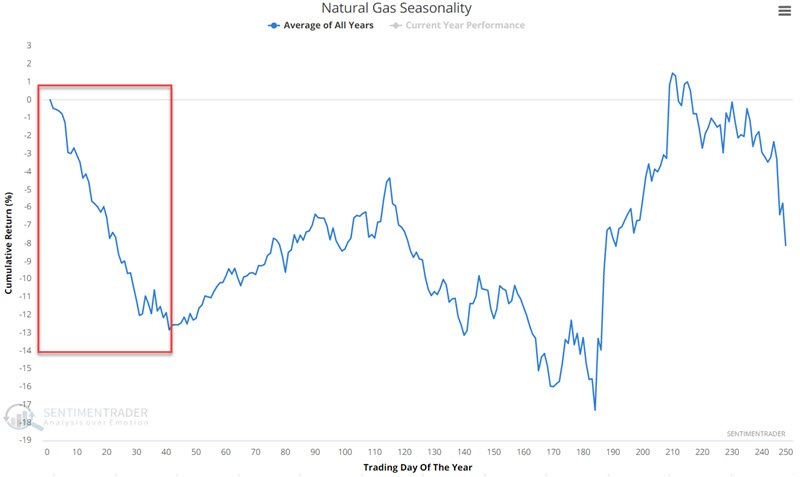 It is always important to remember that seasonality charts are not roadmaps. In other words, they tell you what has happened in the past, not what will happen the next time around. That said, holding the KOLD fund during this window has led to consistent - but still volatile - gains.


Related Posts:
---
Tagged As:
The post titled Even as stocks tickled new highs, a historic thrust in breadth was originally published as on SentimenTrader.com on 2022-01-06.
At SentimenTrader.com, our service is not focused on market timing per se, but rather risk management. That may be a distinction without a difference, but it's how we approach the markets. We study signs that suggest it is time to raise or lower market exposure as a function of risk relative to probable reward. It is all about risk-adjusted expectations given existing evidence. Learn more about our service , research, models and indicators.
Follow us on Twitter for up to the minute analysis of market action.
Follow @sentimentrader