Euro Death Cross As Down Days Swamp Up Days, Staples Stabilize
---
---
This is an abridged version of our Daily Report.
Euro Death Cross
For more than a year, the euro's 50-day average has been above its 200-day average.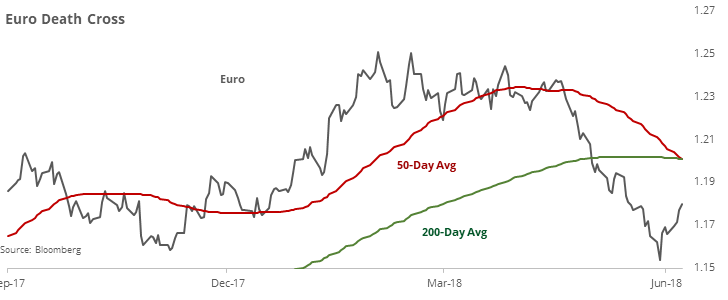 That trend has now ended, after one of the longest streaks in the currency's history. The end to other long streaks led to further weakness in the euro and gold, while the dollar did well (see inside).
Down days have more oomph
So far in 2018, the average down day has been 20% larger than the average up day.

That's among the worst ratios since 1928. It has been an inconsistent warning sign, though stocks did struggle through August (see inside).
Staples stabilize
Consumer Staples finally rallied above the 50-day average after hitting a multi-year low. That has led to an excellent risk/reward in the sector over the long-term (see inside).
The latest Commitments of Traders report was released, covering positions through Tuesday
"Smart money" hedgers continued to add to their decade-long high exposure to the Swiss franc. Same with hogs, where they are below a record long position by just a hair.


F
or access to the full report, indicators, charts, screens, and Backtest Engine, log in or sign up for a free 30-day trial today.
Related Posts:
---
Tagged As:
The post titled Euro Death Cross As Down Days Swamp Up Days, Staples Stabilize was originally published as on SentimenTrader.com on 2018-06-11.
At SentimenTrader.com, our service is not focused on market timing per se, but rather risk management. That may be a distinction without a difference, but it's how we approach the markets. We study signs that suggest it is time to raise or lower market exposure as a function of risk relative to probable reward. It is all about risk-adjusted expectations given existing evidence. Learn more about our service , research, models and indicators.
Follow us on Twitter for up to the minute analysis of market action.
Follow @sentimentrader