ETF Traders, Foreigners Jump In Right Before Momentum Stock Shock
---
---
This is an abridged version of our recent reports and notes. For immediate access with no obligation, sign up for a 30-day free trial now.
Momentum stock shock
After last week's huge drop in momentum stocks, and shift toward value from growth, those shares fell a bit more and have since rebounded. The two-sided volatility is notable and is something that preceded the last two recessions.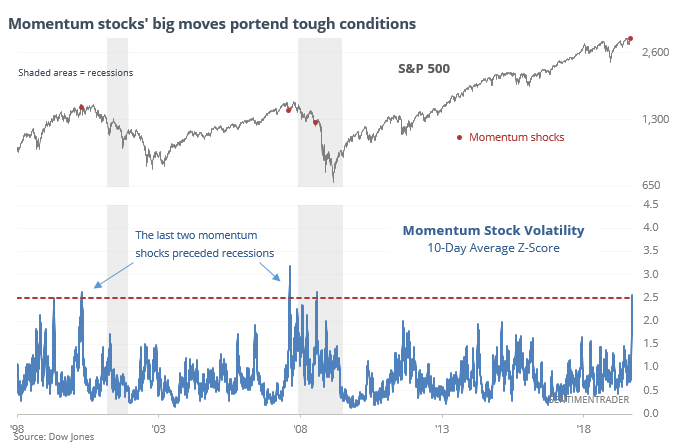 Going back to 1928, similar jumps in volatility among momentum stocks were not necessarily a good indicator of recessions, but future stock returns were weaker than average. Over the next 6 months, the S&P 500 showed a positive return only 36% of the time, with risk that far outweighed reward. This is a worry.
Foreigners come back
After a year of selling U.S. stocks, foreigners have come back. In June and July of this year, they bought more than $24 billion of stocks, which only account for a small percentage of U.S. market cap, but still rank among their largest monthly purchases.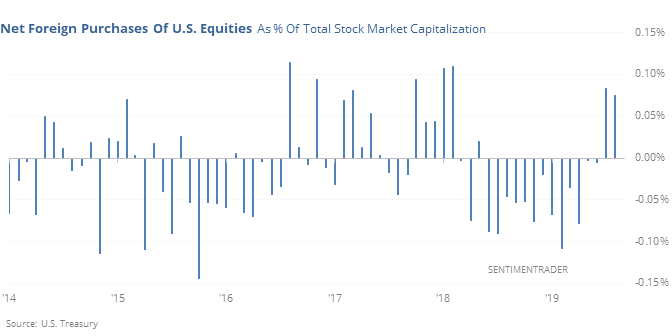 There is a delay in when this data is released by the Treasury, but after other times they went on buying sprees, future returns in the S&P 500 were on the weaker side.
Japan rising
The McClellan Oscillator on the Japanese Nikkei 225 has neared a 17-year high.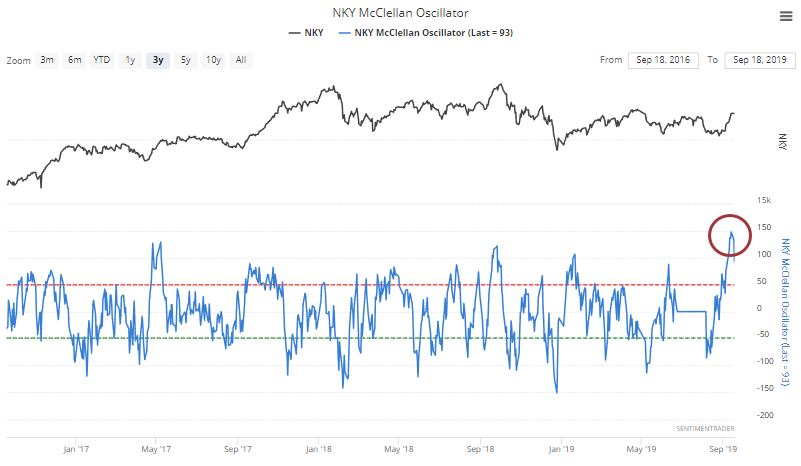 According to the Backtest Engine, it has crossed above 135 only twice before, in March 2009 and November 2014. Both were after prolonged declines or choppy markets, and both led to gains of more than 15% over the next 6 months.
ETF traders are buying
According to the Investment Company Institute, investors bought more than $15 billion of equity ETFs last week, among the most in years. The Backtest Engine shows that big inflows like this weren't necessarily a negative, with only modest short-term weakness and gains over the next month after 8 of 10 weeks.
U.S. manufacturing still weak

U.S. manufacturing remains weak. ISM Manufacturing is below 50 (contraction), and Industrial Production's YoY % change has now fallen below 0.4%. And if you isolate for the late-cycle cases (i.e. Unemployment is also under 5%), the S&P's 3 month forward returns were even worse than random.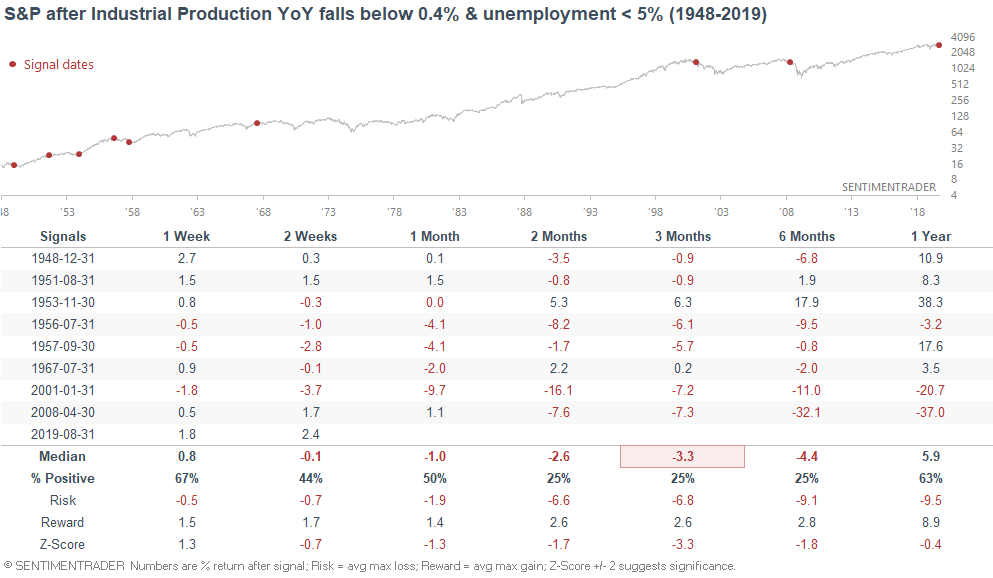 Overall, manufacturing remains a bearish factor for macro (this will be reflected in the Macro Index for next month). However, no data point (especially a fundamental data point) should be taken in isolation.

Related Posts:
---
Tagged As:
The post titled ETF Traders, Foreigners Jump In Right Before Momentum Stock Shock was originally published as on SentimenTrader.com on 2019-09-19.
At SentimenTrader.com, our service is not focused on market timing per se, but rather risk management. That may be a distinction without a difference, but it's how we approach the markets. We study signs that suggest it is time to raise or lower market exposure as a function of risk relative to probable reward. It is all about risk-adjusted expectations given existing evidence. Learn more about our service , research, models and indicators.
Follow us on Twitter for up to the minute analysis of market action.
Follow @sentimentrader