ETF Traders Are Long And Leveraged; Baltic Dry Index Is Plunging
---
---
Long and leveraged
We saw on Monday how some of the most leveraged traders in the markets are seemingly going all-in on the idea of a continued rally in stocks, with one of the biggest spikes in options speculation since the year 2000.
They're not the only leveraged players pressing their bets. Assets in ETFs leveraged to a stock rally are soaring, while those protecting against a fall are leaking assets. Leveraged long funds, like SSO, QLD, and UWM (among others) are seeing a push in assets while leveraged short funds like SDS, QID, and DXD are seeing the opposite.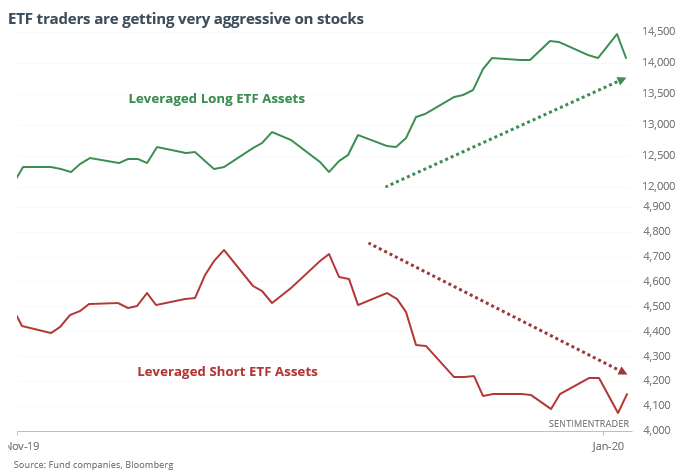 Because the trend since 2010 is "up and to the right,", forward returns weren't terrible, but over the next 1-3 months, the S&P's median was below a random return. More worrisome is the risk/reward skew. Up to three months later, risk was equal to or higher than reward, which is no easy feat given the trend over the past 10 years.
Baltic Dry Index
The Baltic Dry Index is one of those indices which gets no attention until its falling. When it does fall, people start to point out "SHIPPING BELLWEATHER IS SLIDING! RECESSSIONNNN!!"
But in all seriousness, here's the S&P 500 vs. the Baltic Dry Index over the past 5 months.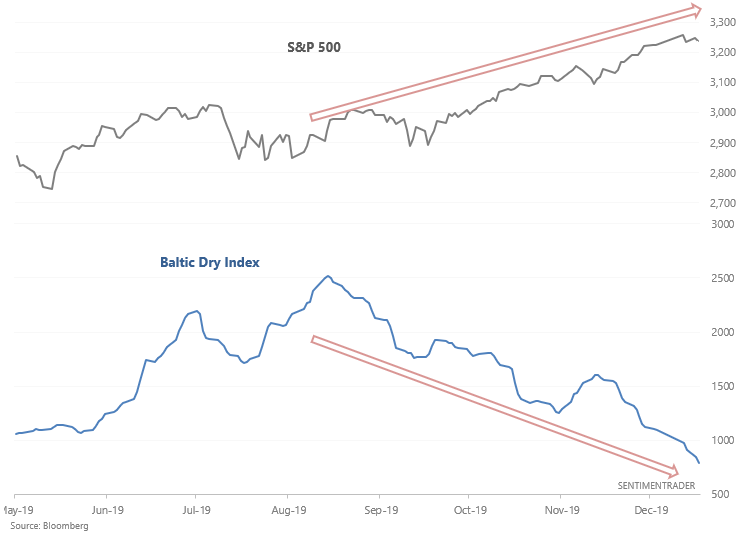 When the Baltic Dry Index fell more than -60% over a 4 month period while the S&P rallied, it wasn't a consistently bearish factor for the stock market.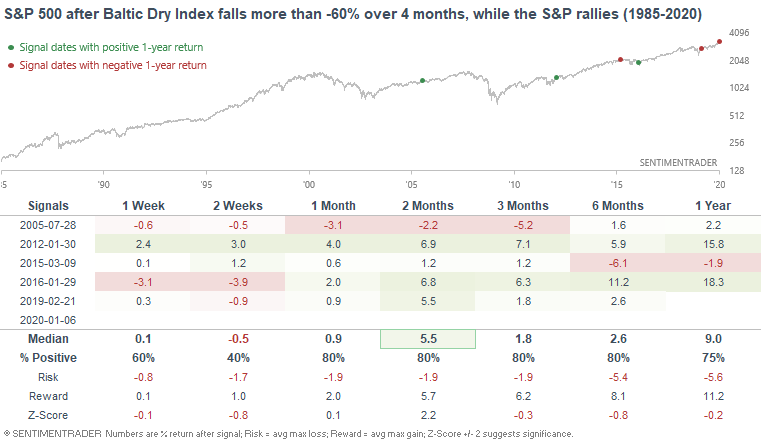 There are seasonal factors in play here, but whatever the reason, the BDI has been an inconsistent - at best - indicator for future stock returns.
This is an abridged version of our recent reports and notes. For immediate access with no obligation, sign up for a 30-day free trial now.
We also looked at:
The S&P 500 is rising even as its components' earnings are declining
A lot of stocks in the United Kingdom's FTSE 100 index are giving MACD sell signals
What happens after Economic Policy Uncertainty has plunged
Emerging markets are rising even while the copper/gold ratio is dropping

Related Posts:
---
Tagged As:
The post titled ETF Traders Are Long And Leveraged; Baltic Dry Index Is Plunging was originally published as on SentimenTrader.com on 2020-01-08.
At SentimenTrader.com, our service is not focused on market timing per se, but rather risk management. That may be a distinction without a difference, but it's how we approach the markets. We study signs that suggest it is time to raise or lower market exposure as a function of risk relative to probable reward. It is all about risk-adjusted expectations given existing evidence. Learn more about our service , research, models and indicators.
Follow us on Twitter for up to the minute analysis of market action.
Follow @sentimentrader