Energy Stocks Worst Breadth In 4 Years; Traders Keep Selling The Open
---
---
This is an abridged version of our Daily Report.
At least Financials are worse
Breadth in the S&P 500 Energy Sector is the worst in four years. Few of the stocks are above even their shortest-term moving averages, and there has been a spike in the percentage of stocks at a 52-week low.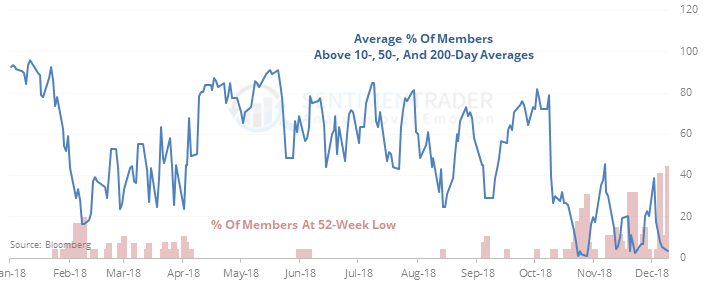 This has, in the shorter-term, been a decent sign for Energy stocks. There were some losses in 2008, but outside of a collapse in the worldwide economic system, these kinds of readings led to universally good returns over the next few weeks.
Sell at the open
For a week straight, the S&P 500 sold off more than 1% from its open, adding to a cluster of such days, the 3rd-most since the financial crisis.

This kind of downside volatility was a mixed blessing, and during bear markets it paid to wait until there were half as many days that saw this kind of intraday selloff.
Gold rush
The NYSE Arca Gold Miners index (upon which the popular GDX fund is based) closed at a 3-month high while still below its 200-day average. It has done this 14 times since 1994. Over the next month, it continued to rally only 5 times and averaged a -2.7% return.
Out of whack
The 5-day average of the Stock/Bond Ratio is now below -2.4. According to the Backtest Engine, it has been this low on 82 days over the past 20 years.



Related Posts:
---
Tagged As:
The post titled Energy Stocks Worst Breadth In 4 Years; Traders Keep Selling The Open was originally published as on SentimenTrader.com on 2018-12-13.
At SentimenTrader.com, our service is not focused on market timing per se, but rather risk management. That may be a distinction without a difference, but it's how we approach the markets. We study signs that suggest it is time to raise or lower market exposure as a function of risk relative to probable reward. It is all about risk-adjusted expectations given existing evidence. Learn more about our service , research, models and indicators.
Follow us on Twitter for up to the minute analysis of market action.
Follow @sentimentrader