Emerging Stocks' Uptrend Ends As S&P Suffers 4th-Longest Pullback
---
---
This is an abridged version of our Daily Report.
Emerging stocks' long-term uptrend is gone
Emerging markets have ended one of their longest-ever long-term uptrends.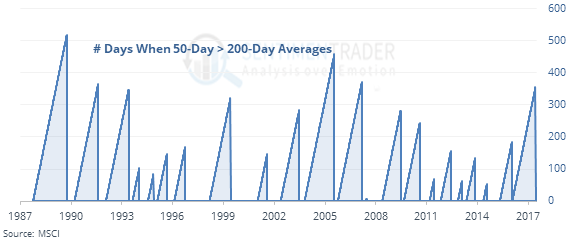 Risk was high after the others ended, especially over the next two months. They've already seen an 8% drop since the trended ended, which served to alleviate most of the risk during the next few months.
Fourth-longest pullback
The S&P just moved into its 4th-longest pullback since the bottom in 2009. The most similar pullbacks since 1929 that lasted this long without a new high led to good returns, especially since 1970
China is the most hated country
The 10-day Optimism Index for the main China fund, FXI, is back below 20. In the fund's history, it has dropped this low only a handful of time. According to the Backtest Engine, the only losses over the medium-to long-term occurred due to signals in late 2007 though the fall of 2008.
Nobody likes coffee, either
Coffee's Optimism Index dropped to 17. Over the past five years, that has led to rebounds over the next month 81% of the time.



F
or access to the full report, indicators, charts, screens, and Backtest Engine, log in or sign up for a free 30-day trial today.
Related Posts:
---
Tagged As:
The post titled Emerging Stocks' Uptrend Ends As S&P Suffers 4th-Longest Pullback was originally published as on SentimenTrader.com on 2018-07-03.
At SentimenTrader.com, our service is not focused on market timing per se, but rather risk management. That may be a distinction without a difference, but it's how we approach the markets. We study signs that suggest it is time to raise or lower market exposure as a function of risk relative to probable reward. It is all about risk-adjusted expectations given existing evidence. Learn more about our service , research, models and indicators.
Follow us on Twitter for up to the minute analysis of market action.
Follow @sentimentrader