Emerging Markets Breakout; Fidelity Managers Beat Cash; Baltic Dry Collapse
---
---
This is an abridged version of our Daily Report.
Breaking out
Emerging markets have closed above their 200-day average for the first time since last spring, a streak of nearly 9 months. That's one of the longer streaks in 30 years.
Other times an emerging markets index ended long streaks below its 200-day average, it showed a strong tendency to keep going over the next month. Most impressive was the risk vs reward ratio. At its worst point during the next month, the emerging markets index lost only an average of 0.5%. That compares to an average gain of more than 5% at its best point.
Active managers come back
Active sector managers of Fidelity mutual funds have started to beat the return on cash over the past few months. Popularized by esteemed technician Walter Deemer, watching how many of these managers have been able to beat cash has been an effective indicator.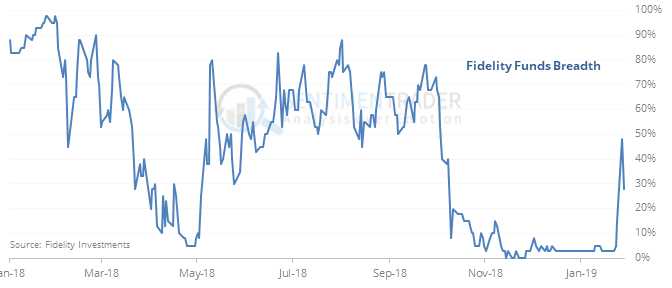 That has been a decent sign for the longer-term during the past 20 years.
Shippers are not chipper
The Baltic Dry Index, measuring shipping rates, has collapsed in recent months, suggesting a global economic slowdown. The thing is, it doesn't really work. At least as a predictor of future returns in the S&P (and most other indexes). It was slightly better for the dollar and gold.
Friendlier Fed
Heading into Wednesday, stocks have not reacted well to Federal Reserve pronouncements. Todays' rally was a big change, and one of the S&P 500 fund's (SPY) best-ever gains on a FOMC decision day. Other times it gained more than 1.5%, it added to gains the next day only 33% of the time.

Related Posts:
---
Tagged As:
The post titled Emerging Markets Breakout; Fidelity Managers Beat Cash; Baltic Dry Collapse was originally published as on SentimenTrader.com on 2019-01-31.
At SentimenTrader.com, our service is not focused on market timing per se, but rather risk management. That may be a distinction without a difference, but it's how we approach the markets. We study signs that suggest it is time to raise or lower market exposure as a function of risk relative to probable reward. It is all about risk-adjusted expectations given existing evidence. Learn more about our service , research, models and indicators.
Follow us on Twitter for up to the minute analysis of market action.
Follow @sentimentrader