Emerging market stocks are trying to break away from an unhealthy market environment
---
---
Emerging markets are often looked to as an indicator of risk appetite. If investors are buying those stocks, then it's assumed that they have a high tolerance for risk. Lately, those stocks have been doing very well, and for the first time in months, the MSCI Emerging Markets Index has moved more than 2% above its 200-day average.
When emerging markets finally managed to break this far away from its average, it typically kept going, though it was not a strong edge. Since 2010, every one of these signals showed a negative return either 2 or 3 months later. It was a better sign for the S&P 500.
Like we're seeing with domestic indexes, even though they're holding up, many stocks are not necessarily following along. In emerging markets, there are still fewer than 60% of stocks above their long-term averages.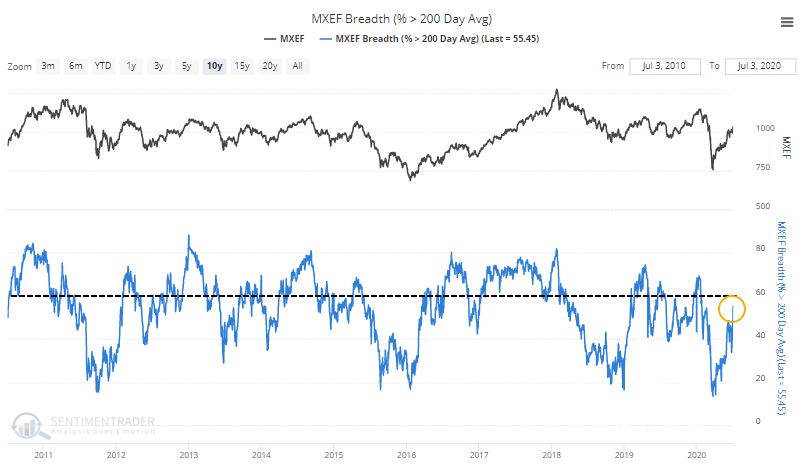 Even so, the push late last week triggered many of them to move outside of their upper Bollinger Bands and also become overbought, with a Relative Strength Index above 70.
There are a couple of minor worries about emerging markets here, but the momentum is more of a good sign than an "overbought is bad" one. Ideally, for bulls, the move will become sustained enough that more than 60% of stocks can exceed and hold their 200-day averages and shift the environment to more of a healthy one. Based on preliminary signs, that should happen.
This is an abridged version of our recent reports and notes. For immediate access with no obligation, sign up for a 30-day free trial now.
We also looked at:
What happens when emerging markets move more than 2% above the 200-day average
What happens when there is a spike in emerging market stocks overbought or above Bollinger Bands, during "unhealthy" markets
Emerging markets vs hedger positions in the U.S. dollar
Emerging market fund flows and shares outstanding are very low
The copper market is in backwardation for the first time in a year
The S&P has seen a lot of days with big gains over the past 100 sessions
A lot of Chinese stocks are overbought and poking above their volatility bands
Same with stocks in Hong Kong