Economic Uncertainty During Midterm Summers As Stocks Form Lower Highs
---
---
This is an abridged version of our Daily Report.
Midterm summer blues
The summers of midterm election years are weak more often than not. Supposedly, it's supposed to get even worse if investors are uncertain about government economic policy.

Going back to 1900, however, that doesn't seem to be the case.
Lower highs
Since the January peak, stocks have made two lower highs, each lower than the prior one by more than 2%.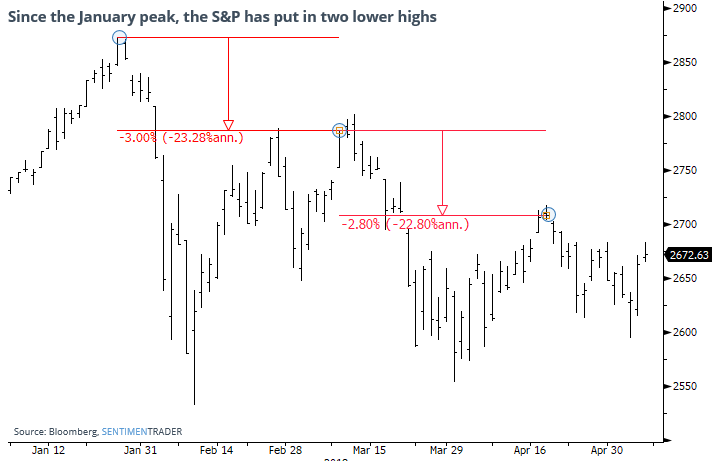 That hasn't happened since 2009. Prior signals led to poor returns, especially when the past year had been positive or slightly negative.
Sentiment by country
Eric has created a world map to visualize the current Optimism Index of countries around the world. You can zoom and pan the map, and click on any country to bring up a chart of its Optimism Index over time (and then Favorite it, backtest it, etc., like any other indicator). It's a great, quick way to see where on the globe that investors are currently focusing. On the site menu, it is under More > Optimism Index Geo-Map.
Way south of the border
If you pull up the Geo-Map, one country that sticks out is Mexico. The Optimism Index on EWW collapsed to 6 on Monday. According to the Backtest Engine, over the past 9 years, a reading below 7 led to a positive return over the next month 18 out of 20 times.


F
or access to the full report, indicators, charts, screens, and Backtest Engine, log in or sign up for a free 30-day trial today.
Related Posts:
---
Tagged As:
The post titled Economic Uncertainty During Midterm Summers As Stocks Form Lower Highs was originally published as on SentimenTrader.com on 2018-05-08.
At SentimenTrader.com, our service is not focused on market timing per se, but rather risk management. That may be a distinction without a difference, but it's how we approach the markets. We study signs that suggest it is time to raise or lower market exposure as a function of risk relative to probable reward. It is all about risk-adjusted expectations given existing evidence. Learn more about our service , research, models and indicators.
Follow us on Twitter for up to the minute analysis of market action.
Follow @sentimentrader