Economic Surprises Turn Negative, So Do Investors And Gold
---
---
This is an abridged version of our Daily Report.
A slip in surprises
U.S. economic surprises have ended their longest-ever positive streak, after being positive since last September.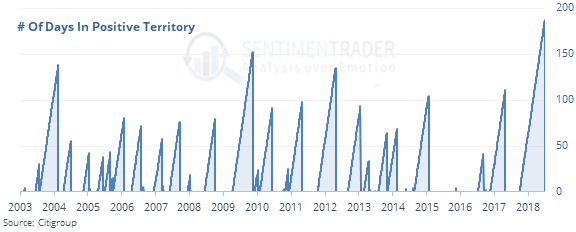 The ends of other long positive streaks led to mixed returns in stocks, excellent ones in bonds, and poor in gold.
Mom & pop become discouraged
The AAII survey is nearing the bottom 10% of all readings in 30 years as individuals give up on the idea of a sustained rally. That kind of pessimism has led to some of the best forward returns for the S&P out of all deciles of sentiment in the survey.
Gold's historic couple of weeks
Gold has had only a single up day in two weeks, a historic level of selling. Similar bad two-week streaks led to short-term rebounds, but medium- to long-term returns were mixed.
Slide in Financials
Among sector ETFs, Financials have had the worst breadth. Heading into Thursday, only 1% of them were above their 10-day averages, and fewer than 10% above their 50-day. According to the Backtest Engine, since 1999, that has led to rebounds over the next weeks about 70% of the time.


F
or access to the full report, indicators, charts, screens, and Backtest Engine, log in or sign up for a free 30-day trial today.
Related Posts:
---
Tagged As:
The post titled Economic Surprises Turn Negative, So Do Investors And Gold was originally published as on SentimenTrader.com on 2018-06-29.
At SentimenTrader.com, our service is not focused on market timing per se, but rather risk management. That may be a distinction without a difference, but it's how we approach the markets. We study signs that suggest it is time to raise or lower market exposure as a function of risk relative to probable reward. It is all about risk-adjusted expectations given existing evidence. Learn more about our service , research, models and indicators.
Follow us on Twitter for up to the minute analysis of market action.
Follow @sentimentrader