Earnings Season As A Savior As Stocks Get Stuck
---
---
This is an abridged version of our Daily Report.
Good earnings as a savior
Analysts expect robust growth in earnings as companies report them over the next four weeks. Good growth is also expected to save stocks as they just corrected ahead of earnings season.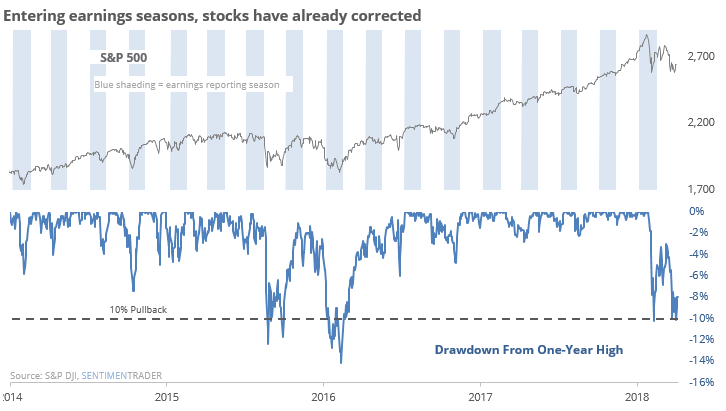 This has been a shaky leg upon which to stand, with strong earnings growth not providing much of a boost.
Following the follow-through
The S&P rose for the 3rd straight session following a drop to a nearly three-month low in an uptrend. Such gains have failed only a few times, with most of the instances leading to good gains in the medium-term.
Trapped
The multiple up days for stocks have come while the S&P is trapped between a declining 50-day moving average and a rising 200-day average.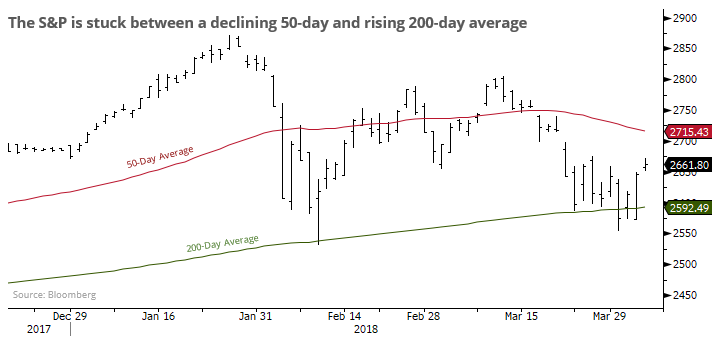 For shorter-term traders, that has been a valid concern, but beyond the next two weeks, the positive longer-term trend asserted itself.
Lumber love
The most loved commodity is lumber, where the Optimism Index has climbed above 85 for one of the few times in its history. It has struggled to maintain its momentum over the past year when it has spiked this high.
For access to the full report, indicators, charts, screens, and Backtest Engine, log in or sign up for a free 30-day trial today.
Related Posts:
---
Tagged As:
The post titled Earnings Season As A Savior As Stocks Get Stuck was originally published as on SentimenTrader.com on 2018-04-06.
At SentimenTrader.com, our service is not focused on market timing per se, but rather risk management. That may be a distinction without a difference, but it's how we approach the markets. We study signs that suggest it is time to raise or lower market exposure as a function of risk relative to probable reward. It is all about risk-adjusted expectations given existing evidence. Learn more about our service , research, models and indicators.
Follow us on Twitter for up to the minute analysis of market action.
Follow @sentimentrader