Earnings Recession; Investors Reduce Exposure; Record Outflows
---
---
This is an abridged version of our Daily Report.
Recession talk
Concerns are rising about a recession. Even if we don't see an economic one, we may be in store for an earnings recession.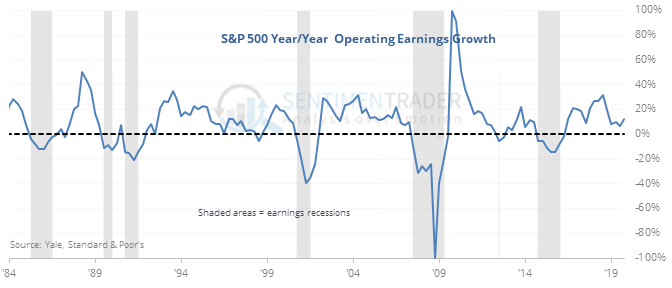 The data is not showing that as likely, but even if it happens, it does not necessarily mean that stock prices will decline according to all of the earnings recessions since 1928. The economy is not the stock market, and the two can diverge at times. Same goes for stock prices and fundamentals. Even when companies in the S&P were about to show consecutive quarters of negative earnings, the S&P itself managed to hold up most of the time. Over the next 9 months, it rose 8 out of 10 times.
Reducing exposure
Exactly one year ago, mom and pop investors were the most exposed they'd been since the year 2000. They were holding a high allocation to stocks and very low one to cash. That has changed dramatically, especially in December, as they reduced their stocks and added cash. They're now holding a below-average exposure to the gyrations of the market.
Shrinkage
Despite a 2% loss in the S&P 500, on the NYSE there were fewer 52-week lows than the day before, and there were more 52-week highs. This lack of participation in the downside has usually been a decent medium-term sign.
Flow
According to Lipper, over the past four weeks, $94.3 billion has come out of equity funds. That is more than double the previous record.
No optimism
The 3-week average of the AIM Model is going to a lowly 1% after this week. In the past 35 years, the 3-week average has been this low only one other week, which was September 11, 1998.



Related Posts:
---
Tagged As:
The post titled Earnings Recession; Investors Reduce Exposure; Record Outflows was originally published as on SentimenTrader.com on 2019-01-04.
At SentimenTrader.com, our service is not focused on market timing per se, but rather risk management. That may be a distinction without a difference, but it's how we approach the markets. We study signs that suggest it is time to raise or lower market exposure as a function of risk relative to probable reward. It is all about risk-adjusted expectations given existing evidence. Learn more about our service , research, models and indicators.
Follow us on Twitter for up to the minute analysis of market action.
Follow @sentimentrader