Double Trouble
---
---
This is an abridged version of our recent reports and notes. For immediate access with no obligation, sign up for a 30-day free trial now.
Double trouble
For the first time in several months, two technical warning signs triggered on the Nasdaq exchange. There hasn't been a cluster, and they haven't triggered on the NYSE, but even a single day with both warnings triggering has preceded consistently poor returns for the Nasdaq Composite.
The basic guidelines for the Hindenburg Omen are that the market:
1) must be in an uptrend
2) show a large number of stocks hitting 52-week highs AND 52-week lows and
3) show negatively diverging breadth momentum
The Titanic Syndrome adds that the market must have hit a new high in the past 7 sessions, then all of a sudden there were more stocks hitting 52-week lows than 52-week highs. Both are simply trying to capture times when an index was doing well, but there was strife under the surface.

These are not "market crash" indicators. They are only meant to identify times when the risk/reward for stocks over a medium-term time frame is poor. In their decades of real-time use (not cherry-picked, optimized, back-tested data), they have proven to be effective. Not perfect, but nothing is.
What makes it even more rare (and worse) is that both of them triggered on consecutive days. When that happened other times in the past 33 years, the Nasdaq had great difficulty holding any upside momentum.
Bulls are back
The AAII Bullish % has jumped more than 20% over the past 5 weeks, showing a big reversal in sentiment among individual investors.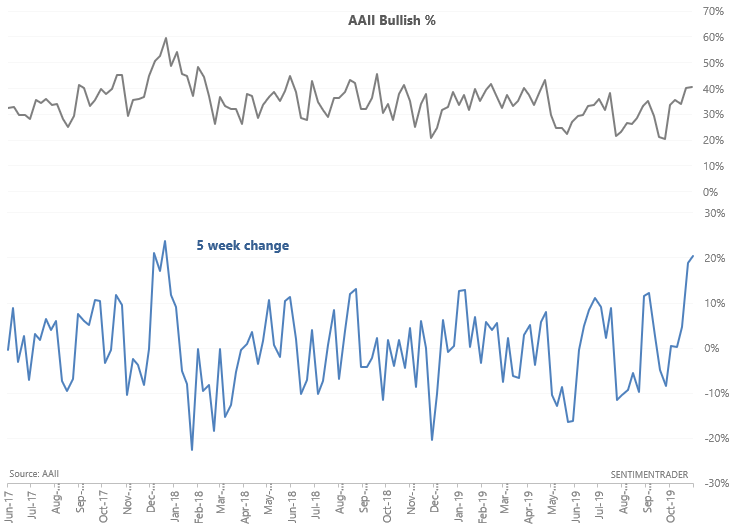 Such jumps in sentiment while the S&P is at or close to a 1 year high saw the S&P experience worse-than-average returns over the next few weeks and months.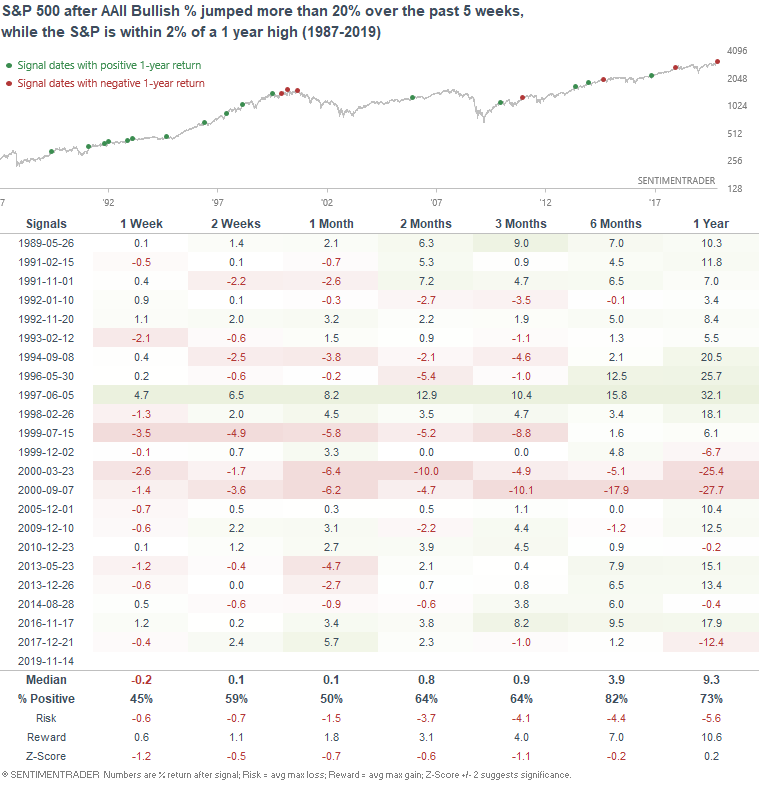 We also looked at:
S&P is up over 7 days while breadth was negative almost every day
The equal-weighted S&P is "undervalued" relative to the cap-weighted index
The HiLo Logic Index is very high
The put/call ratio is very low
A Golden Cross in the yield curve
Realized volatility in stocks is plunging
Consumer comfort is rolling over

Related Posts:
---
Tagged As:
The post titled Double Trouble was originally published as on SentimenTrader.com on 2019-11-15.
At SentimenTrader.com, our service is not focused on market timing per se, but rather risk management. That may be a distinction without a difference, but it's how we approach the markets. We study signs that suggest it is time to raise or lower market exposure as a function of risk relative to probable reward. It is all about risk-adjusted expectations given existing evidence. Learn more about our service , research, models and indicators.
Follow us on Twitter for up to the minute analysis of market action.
Follow @sentimentrader