Don't Fight The Fed's Sentiment
---
---
Don't fight the Fed
That market mantra mostly holds true, and based on the sentiment within the Fed, should be on the bulls' side. A model from Nordea Markets based on language used during FOMC meetings shows that we currently have the most dovish (easiest money) Fed in a decade.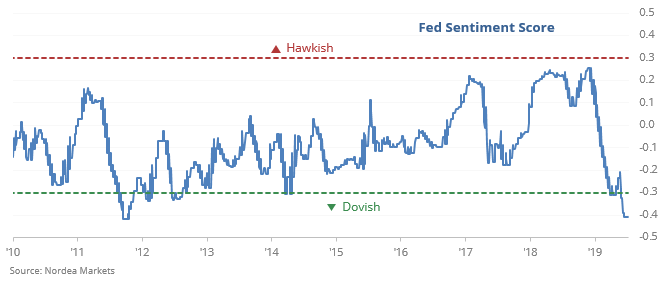 There are some caveats with this - it's a new model, with this being among the first signals triggering in real-time. And it wasn't perfect, signalling all-clear conditions too early in 2001. Evens so, returns were typically good afterward for both stocks and gold. It was much less so for the dollar and bond prices.
A long round trip
The S&P 500 is nearing its next round number at 3,000 and when it closes above, will generate quite a bit of attention. That's especially so since it's been more than 200 days since its last round number hurdle.
The longer it took to exceed its next round number, the better its shorter-term returns were, suggesting the events generated investor excitement that lasted for a little while.
Ole
Brazilian stocks haven been on a rampage, and they've just scored one of the best underlying breadth readings in 20 years. There have been 8 other times when the stocks in the Ibovespa index have done this well, and this broadly. These were good signs of intense buying interest and 3 months later, the Ibovespa was even higher 6 of the 8 times by an average of 12.0% (median of 4.2%).
Greedy
The CNN Fear & Greed proxy model is back above 80. Using next-day returns from the Backest Engine, readings above 80 led to an annualized -4.9% return in the S&P. Below 20, that jumped to +28.6%.
This post was an abridged version of our previous day's Daily Report. For full access, sign up for a 30-day free trial now.

The post titled Don't Fight The Fed's Sentiment was originally published as on SentimenTrader.com on 2019-07-12.
At SentimenTrader.com, our service is not focused on market timing per se, but rather risk management. That may be a distinction without a difference, but it's how we approach the markets. We study signs that suggest it is time to raise or lower market exposure as a function of risk relative to probable reward. It is all about risk-adjusted expectations given existing evidence. Learn more about our service , research, models and indicators.
Follow us on Twitter for up to the minute analysis of market action.
Follow @sentimentrader