Dollar Fails As S&P Momentum Stalls
---
---
This is an abridged version of our Daily Report.
A dollar failure
The U.S. dollar ended a long streak without a new high in early August by closing at its first 52-week extreme in more than 400 sessions.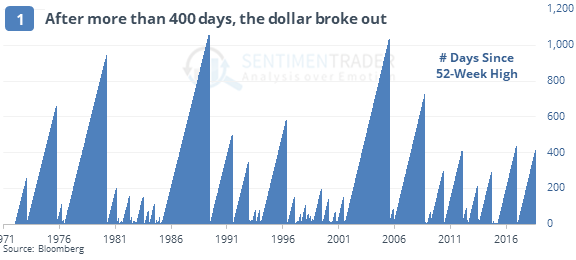 Since then, it rallied more than 1%, then failed by closing below its breakout price, which has usually preceded more weakness.
Good vs bad overbought
The S&P is breaking to new highs, but its Relative Strength Index is lower than it was in January. Breakouts accompanied by very high RSI readings tend to do better than ones with low readings, showing impressive momentum from buyers.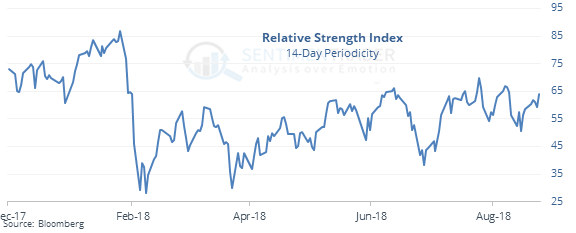 Breakouts also do (slightly) better when more of the S&P's component stocks hit new highs along with the index.
Silver streak
According to Bloomberg, silver is on track to end its streak of 10 straight weekly declines, the longest since 1950. The only times it even reached 8 straight weekly declines were January 4, 1985, and May 29, 1998.
The latest Commitments of Traders report was released, covering positions through Tuesday
The 3-Year Min/Max Screen shows that "smart money" hedgers keeping adding aggressively to coffee, where they're now net long a record 26% of total open interest.
F
or access to the full report, indicators, charts, screens, and Backtest Engine, log in or sign up for a free 30-day trial today.
The post titled Dollar Fails As S&P Momentum Stalls was originally published as on SentimenTrader.com on 2018-08-27.
At SentimenTrader.com, our service is not focused on market timing per se, but rather risk management. That may be a distinction without a difference, but it's how we approach the markets. We study signs that suggest it is time to raise or lower market exposure as a function of risk relative to probable reward. It is all about risk-adjusted expectations given existing evidence. Learn more about our service , research, models and indicators.
Follow us on Twitter for up to the minute analysis of market action.
Follow @sentimentrader