Does The Low Volume Really Matter?
---
---
Low-volume rally
Each of the past three weeks has seen the S&P 500 inch ever closer to a new high. At the same time, investors have grown increasingly comfortable, as volume continues to decline and is now more than 10% below its yearly average.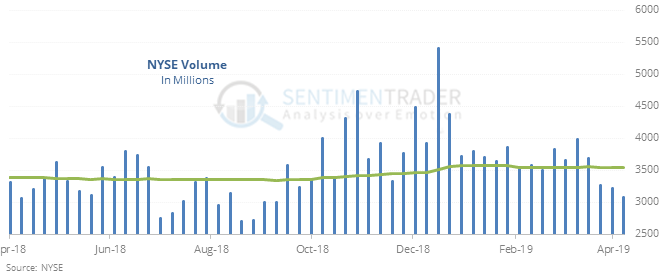 It's entirely normal for volume to ratchet higher during a panic (like December) and then drop precipitously as stocks recover (January and February). None of that is unusual, and none of it suggests anything about the rally's prospects.

Where it gets a little dicey is that the rally has taken us near the old highs, we're seeing that volume successively decline, and it's well below average for several weeks in a row.
Dow breadth momentum
The McClellan Summation Index for the Dow Industrials is nearing a 20-year extreme. It's still extreme if we normalize it to better compare against less-volatile periods.

That can be a good longer-term sign but led to poor shorter-term returns.
S&P stampede
Three of the main S&P 500 exchange-traded funds have seen a flood of money pouring in over the past five weeks. It's now the highest since stocks were peaking in January 2018. When expressed as a percentage of the asset they have under management, it's not nearly as extreme and less of a sign that traders are showing a "get me in" mentality.
Not just the Dow
The McClellan Summation Index for the Nasdaq 100 is also near a record high. According to the Backtest Engine, when it was above 1300, QQQ managed to add to its gains the next week only 27% of the time.
This post was an abridged version of our previous day's Daily Report. For full access, sign up for a 30-day free trial now.

Related Posts:
---
Tagged As:
The post titled Does The Low Volume Really Matter? was originally published as on SentimenTrader.com on 2019-04-16.
At SentimenTrader.com, our service is not focused on market timing per se, but rather risk management. That may be a distinction without a difference, but it's how we approach the markets. We study signs that suggest it is time to raise or lower market exposure as a function of risk relative to probable reward. It is all about risk-adjusted expectations given existing evidence. Learn more about our service , research, models and indicators.
Follow us on Twitter for up to the minute analysis of market action.
Follow @sentimentrader