Discounts On MLP Funds; Wall Street Looks To 2019
---
---
This is an abridged version of our Daily Report.
Partnership pessimism
One of the better ways to gain exposure to master limited partnerships (MLPs) is through closed-end funds (CEFs), which often swing to premiums or discounts to the value of their underlying holdings based almost purely on change in investor sentiment.

The average discount on over a dozen MLP closed-end funds is now large and suggests that investors are showing excessive pessimism toward the sector. It's not perfect, but it does tend to lead to rebounds.
Wall Street looks to 2019
Strategists surveyed by Bloomberg are estimating a gain of about 9% in the S&P for 2019.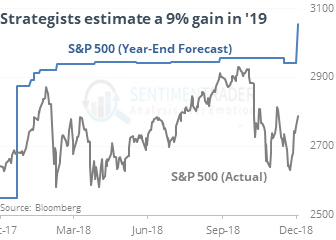 That's right in line with their usual forecast. Over the past 20 years, their yearly forecast has been wildly off the mark more often than not, so their aggregate estimate for next year should be taken with a grain of salt.
Sentiment and seasonality
The Commodity Sentiment & Seasonality Screen shows that lumber, coffee, and heating oil all having an Optimism Index below 30 while averaging a gain of at least 1% in December. The dollar and natural gas show high optimism and negative average return. The screen for ETFs shows a smattering of country funds with low optimism and good December returns.
New trend?
The S&P just closed above its 50-day average for the first time in more than 30 days and is also above its 200-day average. There have been 7 times this happened in the past 40 years, all leading to gains over the next 3 months, averaging 8.0%. Prior to the last 40 years, it had a mostly negative bias.



Related Posts:
---
Tagged As:
The post titled Discounts On MLP Funds; Wall Street Looks To 2019 was originally published as on SentimenTrader.com on 2018-12-04.
At SentimenTrader.com, our service is not focused on market timing per se, but rather risk management. That may be a distinction without a difference, but it's how we approach the markets. We study signs that suggest it is time to raise or lower market exposure as a function of risk relative to probable reward. It is all about risk-adjusted expectations given existing evidence. Learn more about our service , research, models and indicators.
Follow us on Twitter for up to the minute analysis of market action.
Follow @sentimentrader