Despite the "reflation trade," fewer Industrials are trending higher
---
---
Industrial stocks have been one of the bright lights of the re-opening crowd, with investors focusing on them to potentially signal that the engine of commerce is really steaming.
They suffered a hiccup to start the New Year. After months with an overwhelming majority of industrials holding above their medium-term trends, that dropped quite a bit as the calendar turned. For the first time in nearly 2 months, fewer than 70% of industrial stocks traded above their 50-day moving averages.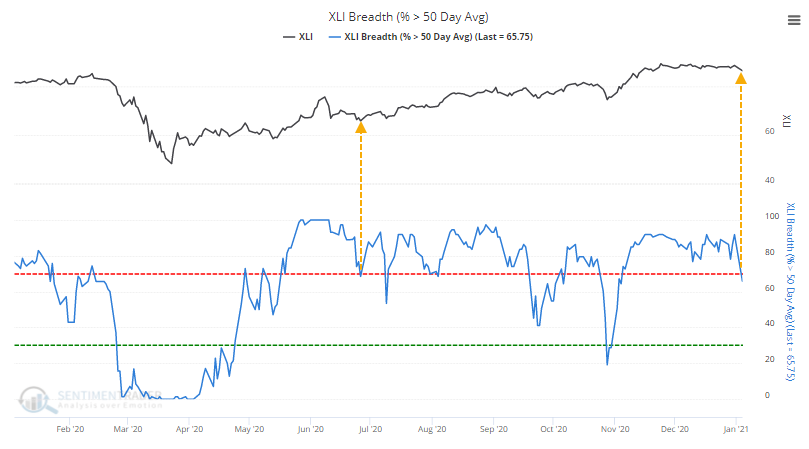 The last time the sector enjoyed an extended run with more than 70% of stocks above their 50-days, when it first dropped below 70%, the sector turned immediately and headed higher. Historically, it hasn't been quite so easy.
---
What else is happening
These are topics we explored in our most recent research. For immediate access with no obligation, sign up for a 30-day free trial now.
Forward returns when the percentage of industrial stocks above their 50-day averages drops below 70%
Returns in XLI when Twitter users are optimistic (like now) versus pessimistic
Corporate insiders aren't buying a lot of shares in industrial companies
A look at the seasonal window in XLI
What happens to industrial stocks when the ISM Manufacturing survey rises above 60
The Russell 2000 fund, IWM, gapped up almost the most-ever when at a new high
Financials had a big spike versus tech
What seasonality says about prospects for the British pound
Returns since 1926 when small-cap stocks see a big jump to a new high
---
Stat Box

On Wednesday, the Russell 2000 rose more than 3% to an all-time high. Since the index's inception in 1979, the only other day that can claim such a good performance was February 29, 2000.
---
Sentiment from other perspectives
We don't necessarily agree with everything posted here - some of our work might directly contradict it - but it's often worth knowing what others are watching.
1. Retail traders have gone heavily short the FTSE 100, and they have a pretty good record at actually being correct. [DailyFX]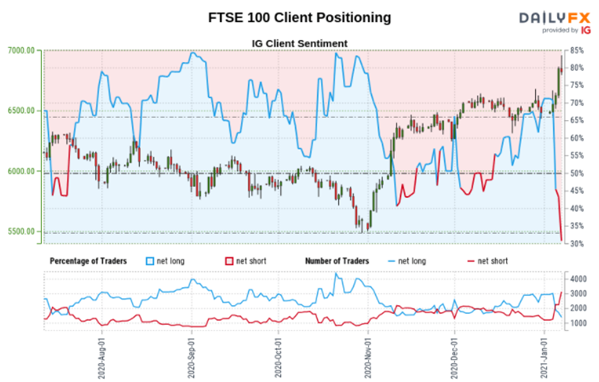 2. With stocks doing well and neighbors getting rich, it gets harder and harder to justify holding cash, so investors are deciding to hold less of it. [Bloomberg TV]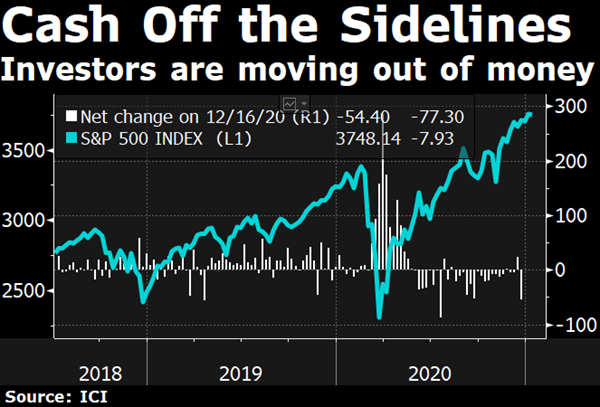 3. Investors have enjoyed the "celebration" part of the cycle when a new president gets elected, and if history is any kind of a guide then the hangover is about to begin. [Tom McClellan]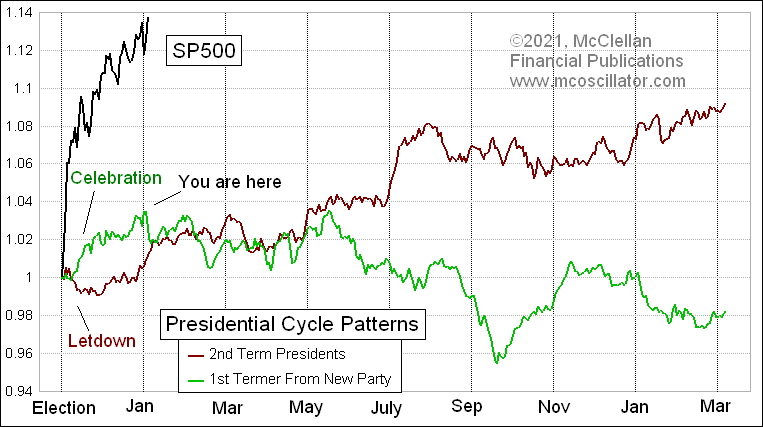 Related Posts:
---
Tagged As:
The post titled Despite the "reflation trade," fewer Industrials are trending higher was originally published as on SentimenTrader.com on 2021-01-07.
At SentimenTrader.com, our service is not focused on market timing per se, but rather risk management. That may be a distinction without a difference, but it's how we approach the markets. We study signs that suggest it is time to raise or lower market exposure as a function of risk relative to probable reward. It is all about risk-adjusted expectations given existing evidence. Learn more about our service , research, models and indicators.
Follow us on Twitter for up to the minute analysis of market action.
Follow @sentimentrader