Sector Correlations; Volatility Flows, Small-Cap Selling
---
---

This is an abridged version of our Daily Report. 
Sector correlations near all-time low
Over the past 3 months, the average correlation of each of the 10 major sectors to the S&P 500 has plunged to the 2nd-lowest level in history.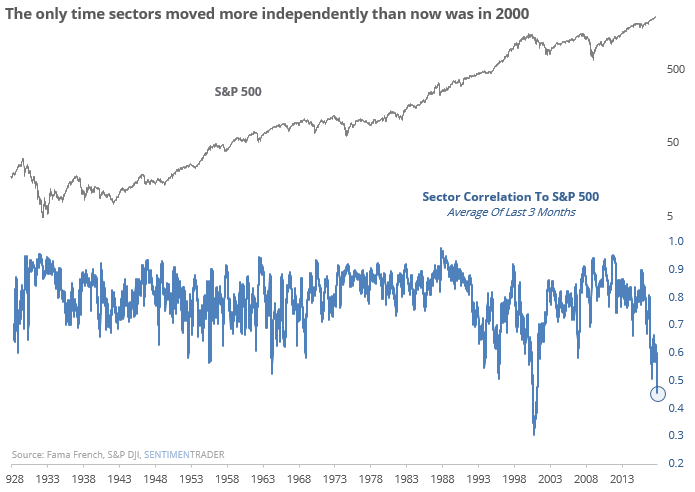 The only time sectors moved more independently than now was in the year 2000. When stocks were at a high then correlations plunged, long-term stock returns were muted, with only one leading to sustained gains.
Volatility bets
There is $2.6 billion in ETFs that bet against a rise in volatility, near an all-time high. But there is also $1.7 billion in funds that bet on a rise, so the net isn't as extreme.
Small-cap troubles
The Russell 2000 has dropped for four straight days after setting a new high.

That has led to further losses over the next couple of weeks almost every time, though this time at least it has positive seasonality in the last two weeks of the year.
From Discretionary to Staples
We saw on Tuesday how much buying interest there has been in Discretionary stocks. Now the Optimism Index for Staples stocks is the highest among the most popular ETFs we track. According to the Backtest Engine, when the 5-day average of the Optix crossed above 80, it tended to fall back over the next week.
For access to the full report, indicators, charts, screens, and Backtest Engine, log in or sign up for a free 30-day trial today.
Related Posts:
---
Tagged As:
The post titled Sector Correlations; Volatility Flows, Small-Cap Selling was originally published as on SentimenTrader.com on 2017-12-07.
At SentimenTrader.com, our service is not focused on market timing per se, but rather risk management. That may be a distinction without a difference, but it's how we approach the markets. We study signs that suggest it is time to raise or lower market exposure as a function of risk relative to probable reward. It is all about risk-adjusted expectations given existing evidence. Learn more about our service , research, models and indicators.
Follow us on Twitter for up to the minute analysis of market action.
Follow @sentimentrader