Crossing A Flat 200-Day Average As Optimism Follows The Thrust
---
---
Jumping over a flat average
The S&P 500 finally closed above its 200-day average after a couple of months below. Because the decline was not that severe or long-lasting, the average was flat.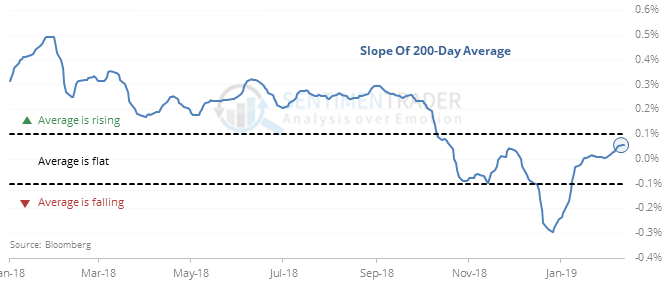 When the S&P has ended a streak below its 200-day average and that average was flat, its returns were quite a bit less positive than if the slope of the average was more negative. Across almost every time frame, the S&P was positive more often, by a greater amount, with less risk, and with more reward, when it crossed above a downward-sloping 200-day average.
Thrust, then optimism
A Zweig Breadth Thrust triggered early in January, and now we're seeing some signs of returning optimism. When that has happened other times since 1970, stocks mostly kept grinding higher, though the next couple of months were choppy. In the short-term, returns were mostly good, but by two months later, the overall bias was negative, including 7 of the last 9 signals.
Overbought in a downtrend
The McClellan Oscillator for the Shanghai Composite has crossed above 50 while the index is still below its declining 200-day moving average.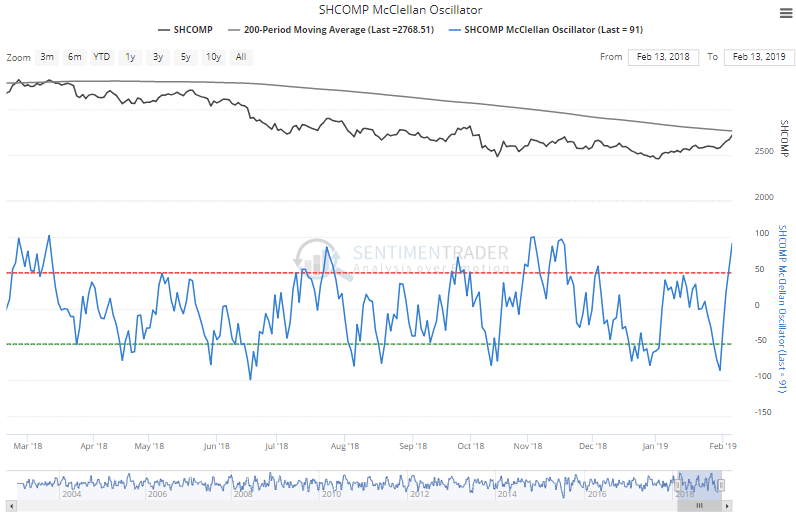 According to the Backtest Engine, since 2003 that has led to a further gain for the Shanghai over the next month only 40% of the time, with an average return of -0.6%.
Longer-term thrust
Breadth momentum has been so positive for tech that the McClellan Summation Index has soared above +1250. This has led to negative returns for the XLK fund over the next 1-2 weeks, but a year later it was higher 95% of the time by an average of 16.3%.
This post was an abridged version of our previous day's Daily Report. For full access, sign up for a 30-day free trial now.

Related Posts:
---
Tagged As:
The post titled Crossing A Flat 200-Day Average As Optimism Follows The Thrust was originally published as on SentimenTrader.com on 2019-02-14.
At SentimenTrader.com, our service is not focused on market timing per se, but rather risk management. That may be a distinction without a difference, but it's how we approach the markets. We study signs that suggest it is time to raise or lower market exposure as a function of risk relative to probable reward. It is all about risk-adjusted expectations given existing evidence. Learn more about our service , research, models and indicators.
Follow us on Twitter for up to the minute analysis of market action.
Follow @sentimentrader