Copper And Margin Debt Not What They Seem
---
---
Copper bowled over
Copper prices have dropped nearly 10% from their peak, which is unnerving those investors who trust it as a leading indicator for global demand.
As a predictor for future stock returns, declines like this have been mixed, with usually positive returns. For copper itself, it wasn't a good sell signal, either, with a positive return across all time frames. The dollar did struggle a bit over the next 1-3 months, so as a sign of slowing growth, that may be where to focus instead of stocks.
Can't borrow enough
Debt using stock as collateral has started rising again, but it's not growing nearly as fast as stocks are. We've seen for years how this difference in growth rates has suggested a lack of excess enthusiasm, unlike 2000 and 2007, and now it's down to pessimistic territory.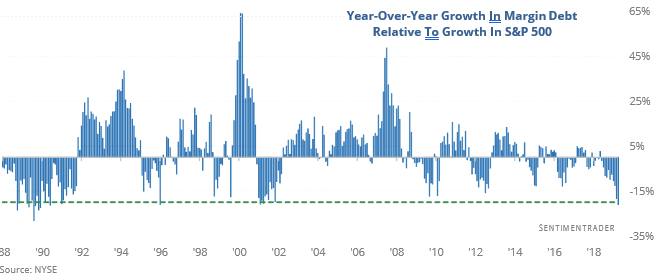 Returns going forward were good, especially over the medium-term, with an 89% win rate over the next 2-3 months, better-than-random returns, and at least a 3-to-1 reward-to-risk ratio.
Ugly action
The S&P managed to jump in the morning, adding minor gains, then reversed hard and closed down by more than 0.5% and at a multi-month low. That looks ugly on a chart, but it has not consistently led to meaningful declines.
Negative momentum
Underlying momentum in most indexes, domestic and overseas, has been solidly positive all year. That's starting to change, and the McClellan Summation Index for the German DAX just went negative for the first time in several months. It's better for stocks when this is positive, which seems likely – after the other times the Index for the DAX turned negative after months in positive territory, it showed only one negative return 3 and 6 months later.
This post was an abridged version of our previous day's Daily Report. For full access, sign up for a 30-day free trial now.

Related Posts:
---
Tagged As:
The post titled Copper And Margin Debt Not What They Seem was originally published as on SentimenTrader.com on 2019-05-29.
At SentimenTrader.com, our service is not focused on market timing per se, but rather risk management. That may be a distinction without a difference, but it's how we approach the markets. We study signs that suggest it is time to raise or lower market exposure as a function of risk relative to probable reward. It is all about risk-adjusted expectations given existing evidence. Learn more about our service , research, models and indicators.
Follow us on Twitter for up to the minute analysis of market action.
Follow @sentimentrader