Copper and interest rates aren't doing what they're supposed to do
---
---
There have been a lot of head-scratching moves in 2020, most of them in the past several months. The cross-currents battling it out in all markets are astounding, and many have never been seen before. One of the most consistent relationships, which has broken down in recent months, is between the price of copper futures and the yield on 10-year Treasury notes.
The two don't move hand-in-hand, but historically they have had a tight positive correlation. The same influences which would push copper higher (industrial demand and economic growth) are the same that would push yields higher. Until lately.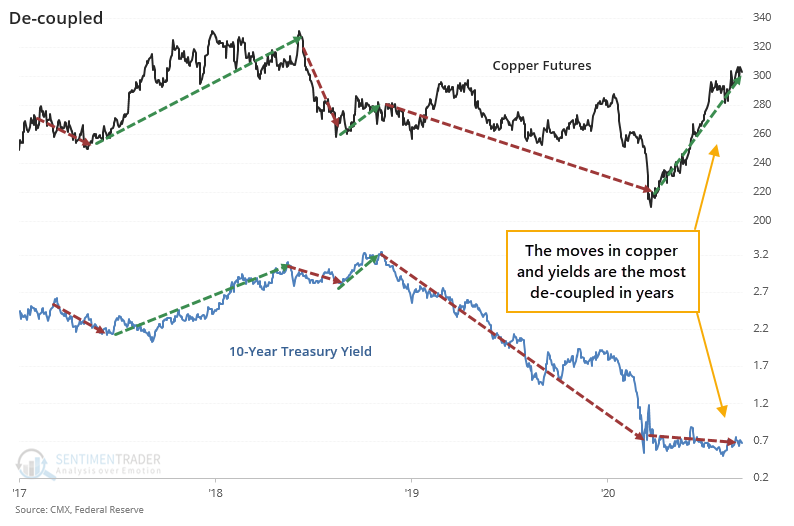 In recent months, copper has consistently held in the top 85% of its one-year range, while the 10-year yield has been stuck near the bottom 15% of its range. This has been going on for much of the past 50 days, which is by far a new record.
For stocks, this kind of divergence was a mixed blessing, with varied returns over the medium- to long-term. The dollar rebounded over the medium-term.
This is an abridged version of our recent reports and notes. For immediate access with no obligation, sign up for a 30-day free trial now.
We also looked at:
A full look at returns in stocks, the dollar, gold, copper, and yields when copper diverges from the 10-year yield
Excess liquidity is at record highs - what that means for assets once it peaks

Related Posts:
---
Tagged As:
The post titled Copper and interest rates aren't doing what they're supposed to do was originally published as on SentimenTrader.com on 2020-09-11.
At SentimenTrader.com, our service is not focused on market timing per se, but rather risk management. That may be a distinction without a difference, but it's how we approach the markets. We study signs that suggest it is time to raise or lower market exposure as a function of risk relative to probable reward. It is all about risk-adjusted expectations given existing evidence. Learn more about our service , research, models and indicators.
Follow us on Twitter for up to the minute analysis of market action.
Follow @sentimentrader