Consumers Vs. Investors As Silver Pops
---
---
This is an abridged version of our recent reports and notes. For immediate access with no obligation, sign up for a 30-day free trial now.
Consumers vs. investors
The latest Consumer Confidence reading shows that U.S. consumers continue to demonstrate an extremely positive outlook on their economic prospects. But investors have been selling consumer discretionary stocks in favor of staples, a more defensive posture.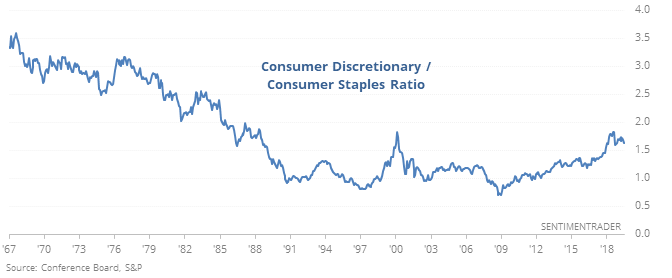 When Confidence was high but the ratio of discretionary to staples was rolling over, stocks showed higher-than-average risk across all time frames. Staples tended to outperform discretionary stocks, especially over the medium-term.

Sector surprises
Economic surprises in general have been terrible for months on end. That's starting to change, and it's being driven by positive retail-related reports. Surprises there have far exceeded expectations, as opposed to the industrial sector, which is lagging badly.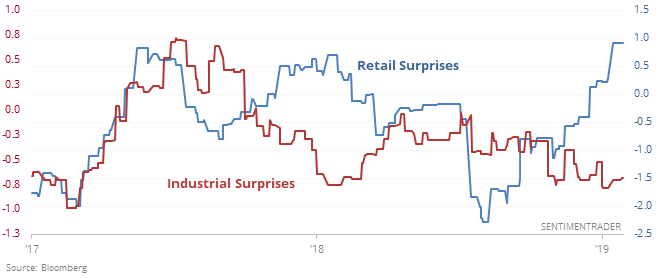 It seems like this should be a good thing. The economy is heavily influence by consumer spending, and if those reports are popping, then perhaps the lag in the industrial side isn't as much of a concern.
That's the theory, but in reality it didn't pan out that way most of the time.
Brazil pessimism
The Geo-Map shows that South American countries have the lowest level of optimism.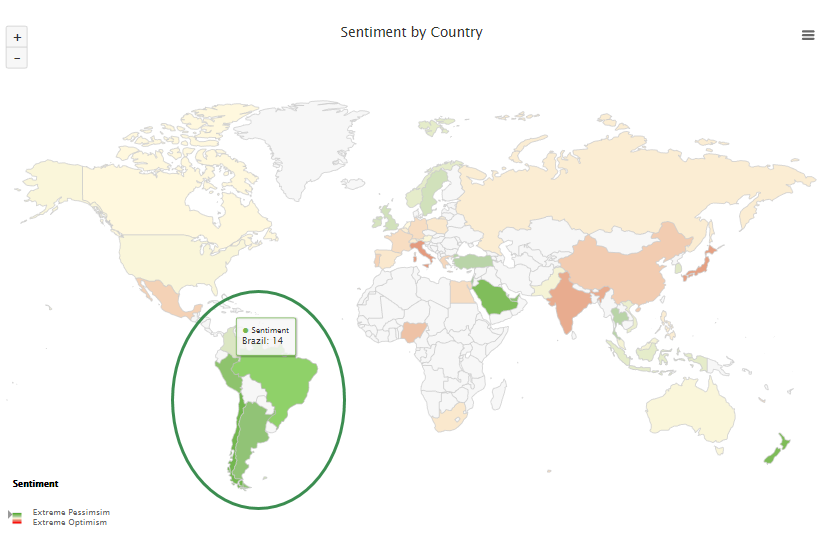 In Brazil, the 20-day Optimism Index has declined to 30. The Backtest Engine shows that since the financial crisis, 133 days have had a reading this low, and a year later the EWZ fund was higher after 124 of them by an average of more than 30%.
Silver
Gold and silver move in the same direction in the medium-long term. After lagging from June to mid-July, silver is finally outperforming gold. As a result, silver has surged to a 2 year high.When silver surged to a 2 year high in the past, it often performed poorly over the next month.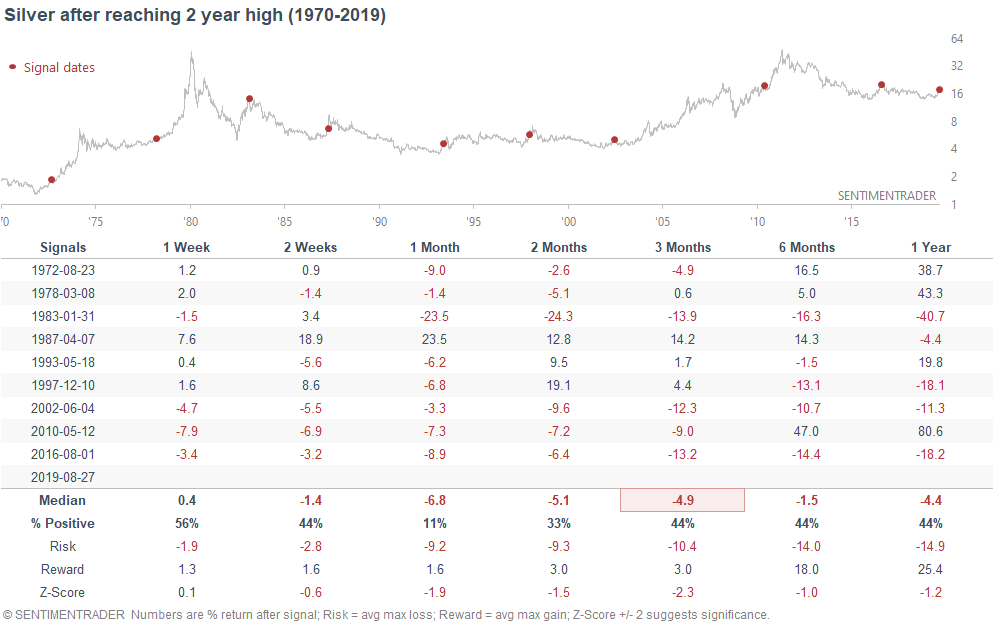 Related Posts:
---
Tagged As:
The post titled Consumers Vs. Investors As Silver Pops was originally published as on SentimenTrader.com on 2019-08-28.
At SentimenTrader.com, our service is not focused on market timing per se, but rather risk management. That may be a distinction without a difference, but it's how we approach the markets. We study signs that suggest it is time to raise or lower market exposure as a function of risk relative to probable reward. It is all about risk-adjusted expectations given existing evidence. Learn more about our service , research, models and indicators.
Follow us on Twitter for up to the minute analysis of market action.
Follow @sentimentrader