Consumers pull a 180 on stocks, but are trading like crazy
---
---
In February, we saw that retail investors were busy trading stocks. Activity in the major retail-facing brokers had exploded, which had negative implications since it suggested a "get me in while the getting is good" kind of mentality.
It's difficult to rely on this data any longer since the brokers moved to free commissions. But just-released data shows that not only did investors pare back during the decline, but they doubled down - literally. Activity in March was more than double what it was just a few months prior.
Aggregating the Daily Average Revenue Trades (DARTs) for E-Trade, TD Ameritrade, and Schwab, we can see that the explosion in activity that was no doubt triggered by free commissions continued unabated as the pandemic unfolded.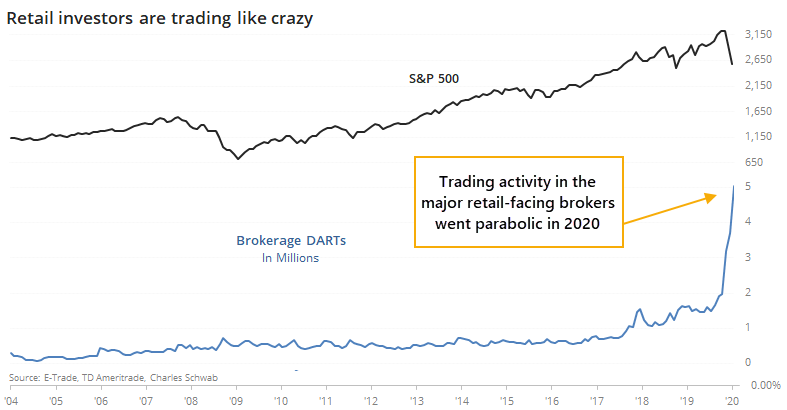 Even so, overall volume on the NYSE jumped in March as well, so retail activity actually dropped relative to the total. Maybe that's a good sign, but it's hard to tell from the data because there aren't really any precedents for this kind of activity.
According to what they're saying, anyway, investors (and by extension, consumers), have pared back their expectations for stocks. In February, we saw that consumers had never been more confident about a continuing rally. Over the past two months, they've reduced those expectations quite a lot.

This is an abridged version of our recent reports and notes. For immediate access with no obligation, sign up for a 30-day free trial now.
We also looked at:
Looking at DART activity as a % of NYSE volume
The University of Michigan survey shows a big drop in consumer expectations about stocks
Looking at the rate of M2 money supply vs stocks, bonds, gold, commodities, and the dollar
What happens after the VIX "fear gauge" drops for 5 straight weeks
Our Optimism Index for QQQ is very high
Investors are showing more confidence in individual stocks, with a drop in the SPY Liquidity Premium
New Home Sales showed a plunge
The GDX gold miner fund has seen a massive number of opening gaps

The post titled Consumers pull a 180 on stocks, but are trading like crazy was originally published as on SentimenTrader.com on 2020-04-27.
At SentimenTrader.com, our service is not focused on market timing per se, but rather risk management. That may be a distinction without a difference, but it's how we approach the markets. We study signs that suggest it is time to raise or lower market exposure as a function of risk relative to probable reward. It is all about risk-adjusted expectations given existing evidence. Learn more about our service , research, models and indicators.
Follow us on Twitter for up to the minute analysis of market action.
Follow @sentimentrader