Consumers haven't been this depressed in 8 years
---
---
This is an abridged version of our recent reports and notes. For immediate access with no obligation, sign up for a 30-day free trial now.
Consumers' concerns
This month, U.S. consumers decided that the economy was headed for a rough patch and stocks were likely to follow. To the greatest extent since 2011, consumers are expecting both stock prices and bond yields to decline in the months ahead.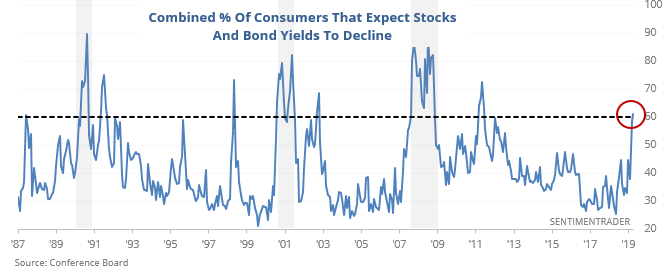 Their pessimism has rarely been this high outside of recessions, and when that happened, stocks showed large gains over the next 9 - 12 months, with especially large gains in smaller-cap shares.
Stocks need bond bears
The S&P 500 has had a high correlation to the dollar lately, and that's not the only asset. It's been tough for stocks to gain on days when bond yields fall.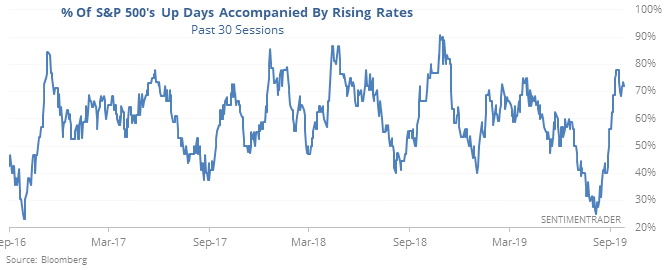 Most of the similar periods of close correlation between the two triggered before the financial crisis. Since then, it's been much less consistent. Like the correlation to the dollar, headlines can make this seem like a scary dynamic, but historically there hasn't been much of a predictive quality to it.
Bitcoin blues
Bitcoin continues to tumble and has now closed below its lower Bollinger Band for four straight days. When the currency has suffered this kind of selling pressure before, it tended to keep going. There was really only one time it rebounded strongly and sustainably (Jan 2015).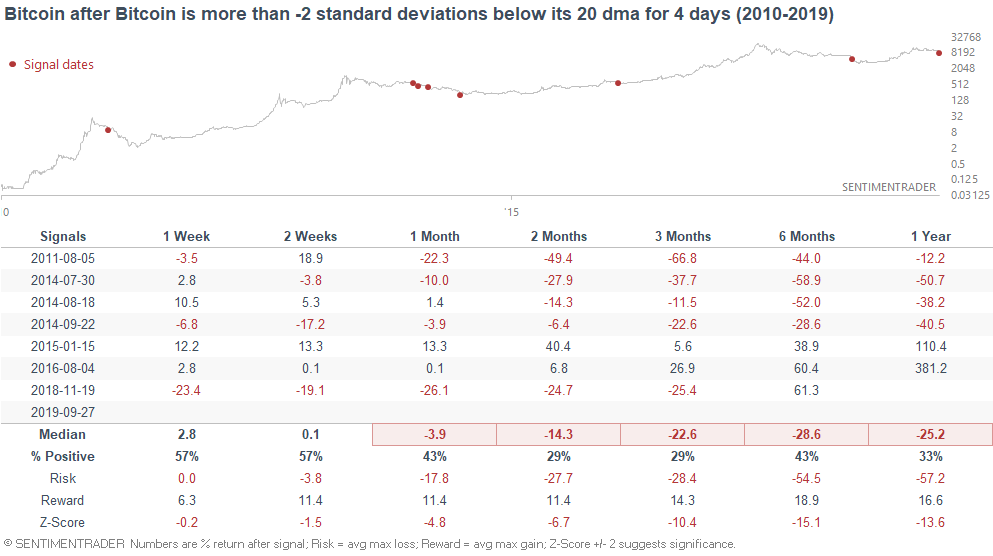 The latest Commitments of Traders report was released, covering positions through Tuesday
The 3-Year Min/Max Screen shows that "smart money" hedgers established a new multi-year (and all-time) short position against gold. This is happening as open interest in gold and silver is hitting record highs, typically a negative sign for both. They also sold platinum and have the kind of short exposure that has led to gains in that metal over the next month after only 19 out of 66 weeks.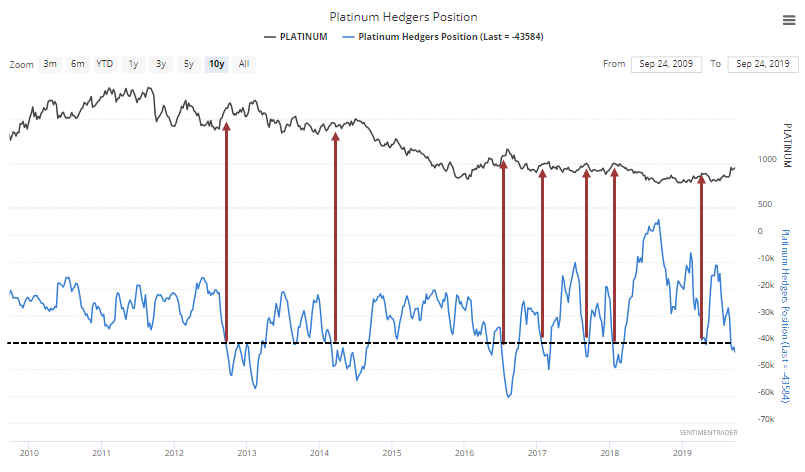 They're still heavily long sugar and many other ag contracts.

Related Posts:
---
Tagged As:
The post titled Consumers haven't been this depressed in 8 years was originally published as on SentimenTrader.com on 2019-09-30.
At SentimenTrader.com, our service is not focused on market timing per se, but rather risk management. That may be a distinction without a difference, but it's how we approach the markets. We study signs that suggest it is time to raise or lower market exposure as a function of risk relative to probable reward. It is all about risk-adjusted expectations given existing evidence. Learn more about our service , research, models and indicators.
Follow us on Twitter for up to the minute analysis of market action.
Follow @sentimentrader