Consumers are buying stuff, but not stocks
---
---
Despite a record monthly close in the S&P 500 and most other broad indexes in February, the average U.S. consumer isn't all that optimistic.
There are definite signs of speculative froth, even unbridled euphoria, among investors, but "investors" don't necessarily overlap with "consumers." The latest survey from the Conference Board shows that explicitly, with barely more consumers expecting stocks to rally this year than decline.
This is unusual. The closer the S&P is to a high, the more that consumers have expected it to keep going. Recent months are showing some of the least optimistic readings in more than 30 years.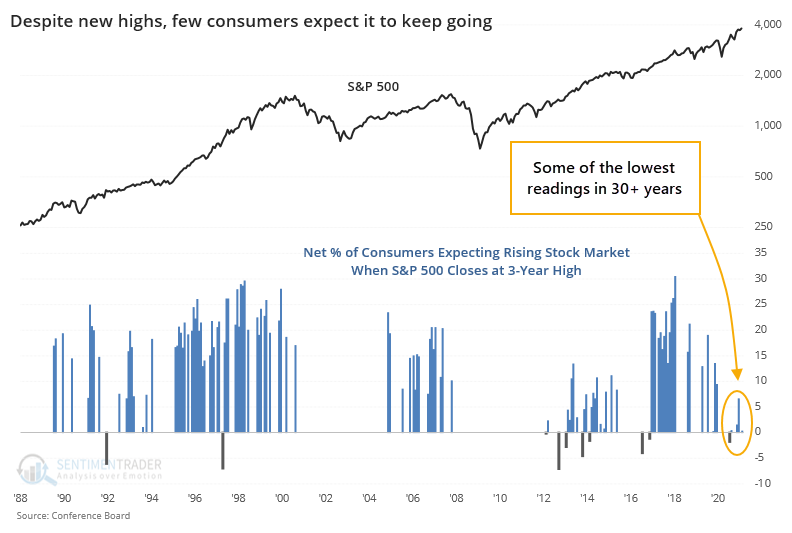 This is supposed to be a good sign of the proverbial Wall of Worry.
When we look at forward returns in the S&P 500 when it closed at a 3-year high while consumers were the least optimistic on the market's prospects going forward, it proved to be a modest positive, thanks in large part to a cluster of readings since 2013-14. If we take out those two years, then the medium-term returns suffer quite a bit.
What else we're looking at
Full returns following "meh" consumers when stocks are at a high
How that differs from times when consumers are very optimistic
A look at a new Risk-On / Risk-Off page that instantly shows how investors are positioned
What usually happens to sugar prices around this time of year
Stocks in Brazil have registered some extremes in recent days

Stat Box



More than

3.75%

of all issues on the Nasdaq exchange hit a 52-week high on Tuesday. But more than 3.75% of issues also fell to a 52-week low. That's among the widest splits in performance, so soon after a new high in the Nasdaq, since 1984.
Sentiment from other perspectives
Uncommonly oversold. There are a lot of "other" securities that trade on the NYSE besides the common stocks that everyone is familiar with, including things like preferred stocks and closed-end funds. A measure of internal breadth momentum among only the "uncommon" issues suggests that they're oversold. Source: Tom McClellan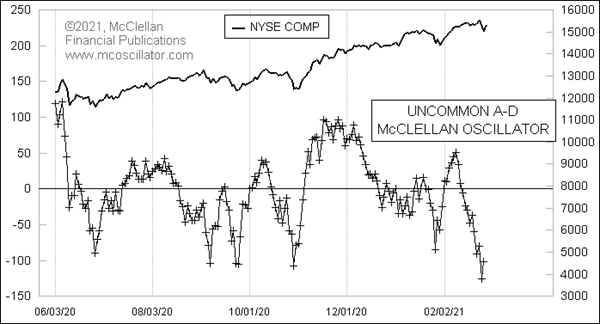 That's because of bonds. A lot of the uncommon issues on the NYSE are driven by moves in interest rates. Rates have risen, meaning that bond prices have declined. And it looks like Commodity Trading Advisors expect that to continue, with a heavy short position. Source: Driehaus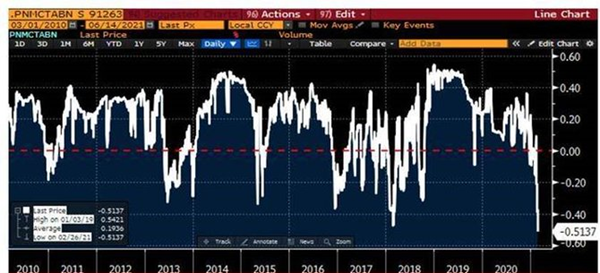 Leveraged, everywhere. Margin debt - funds borrowed from brokers using stock holdings as collateral - has soared to records in the U.S. That's not the only area seeing rising interest in funding debt with equity values, as margin debt in China has risen to its highest levels in 6 years. Source: Bloomberg TV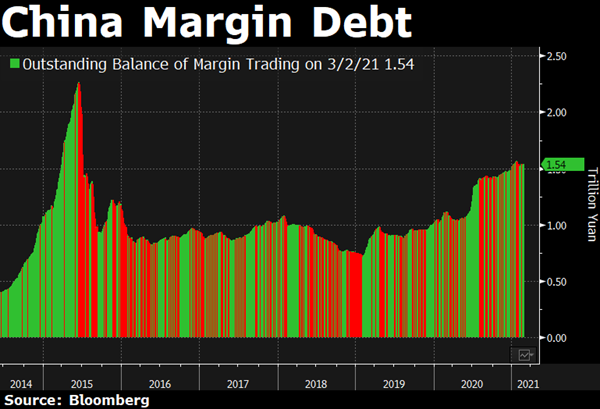 The post titled Consumers are buying stuff, but not stocks was originally published as on SentimenTrader.com on 2021-03-03.
At SentimenTrader.com, our service is not focused on market timing per se, but rather risk management. That may be a distinction without a difference, but it's how we approach the markets. We study signs that suggest it is time to raise or lower market exposure as a function of risk relative to probable reward. It is all about risk-adjusted expectations given existing evidence. Learn more about our service , research, models and indicators.
Follow us on Twitter for up to the minute analysis of market action.
Follow @sentimentrader