Commodity Traders Need to Watch This Market Closely
---
---
The corn market has been one of the top-performing commodities markets so far in 2021.
Will this rip-roaring bull market continue? It is certainly possible. Still, history suggests that the next several months could offer some strong seasonal headwinds. To wit, the chart below displays the annual seasonality trend for corn. We are about to enter a seasonally unfavorable period that typically lasts into mid-August.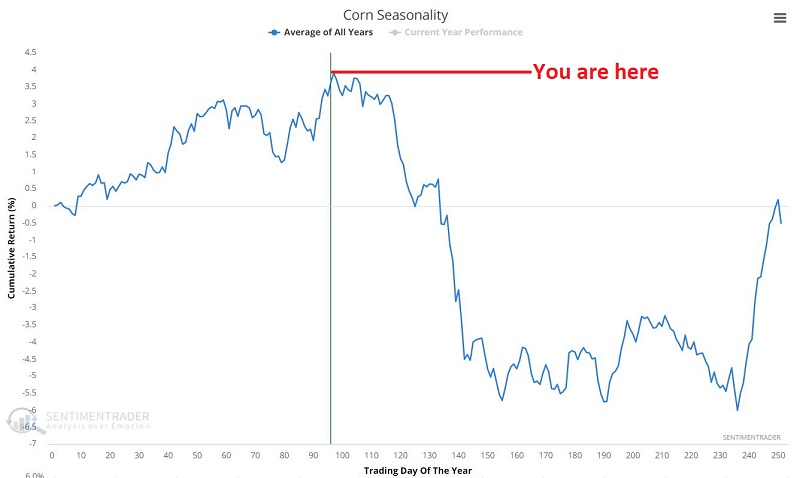 It is important to remember that seasonality charts display previous tendencies and DO NOT serve as a roadmap.
At the same time, optimism is through the roof and starting to slide back. The chart below displays those rare occasions when the 100-day average of our Corn Optimism Index dropped from above to below 72%.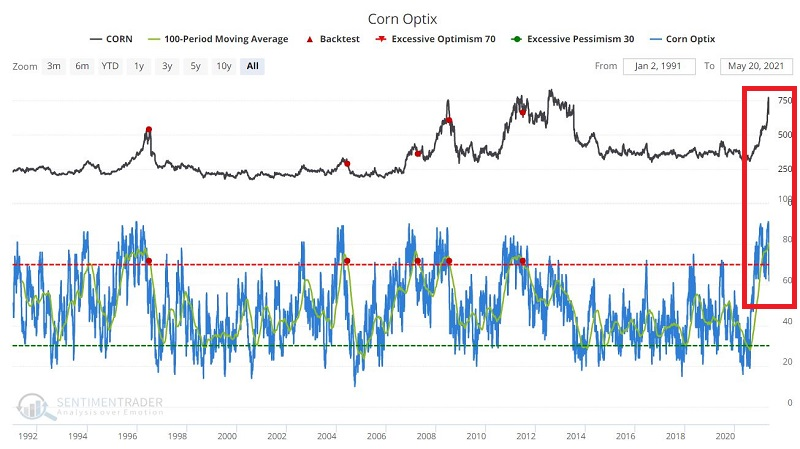 None of the information above guarantees weakness for corn in the months immediately ahead. There are never any sure things, only potential opportunities.
The real point is that traders who wish to play:
The long side of the corn market need to pay careful attention to risk in the months ahead
The short side of the corn market need to decide what will trigger them to enter a short position and how much risk they are willing to assume

Stat Box



On Thursday, the Citi Economic Surprise Index turned negative. That's the first time in

248

sessions, ending the longest streak of positive surprises in 20 years. After the ends of other long positive streaks, gold was the market that struggled the most.
What else we're looking at
Full details on forward returns after high and ebbing optimism on corn
A mean-reversion tendency based on a volatility spike for stocks in Taiwan
What happens after small speculators hold a massive amount of equity index futures
"Smart money" hedgers have established large positions in the Canadian dollar

The post titled Commodity Traders Need to Watch This Market Closely was originally published as on SentimenTrader.com on 2021-05-24.
At SentimenTrader.com, our service is not focused on market timing per se, but rather risk management. That may be a distinction without a difference, but it's how we approach the markets. We study signs that suggest it is time to raise or lower market exposure as a function of risk relative to probable reward. It is all about risk-adjusted expectations given existing evidence. Learn more about our service , research, models and indicators.
Follow us on Twitter for up to the minute analysis of market action.
Follow @sentimentrader