Commodities haven't done this in 50 years
---
---
Commodities continue to be in the news, and rightfully so.
While lumber is getting all the headlines, commodity participation is broad. The 252-day rate of change for the Bloomberg Commodity Index just crossed above 46%, a level last reached in 1980.
The question we should be asking is the following: Does the current surge represent the initial stages of a new commodity bull market like the early 1970s, or does it represent the typical post-recession recovery roadmap?
When we look at major commodity contracts and measure the percentage of them with a 252-day rate of change of 50% or more, we can see that the percentage has reached the highest level since the 1970s. Never before in the past 50 years have more than half of them jumped by 50% in a year.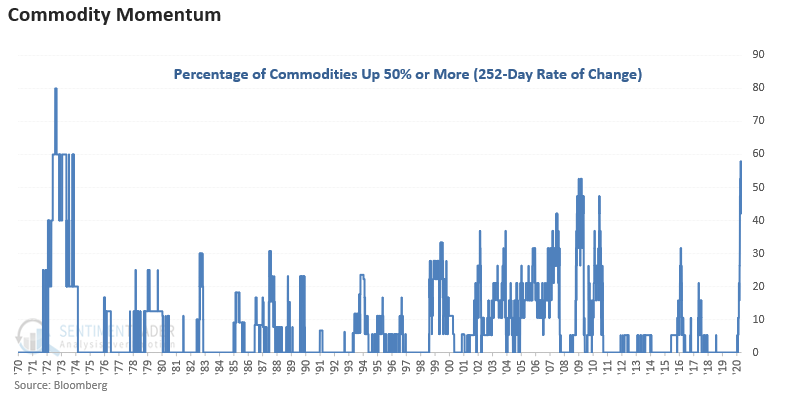 Trouble is, this hasn't been sustainable.
When we look at other instances when the year-over-year change in the Bloomberg Commodity Index was very high, the index showed further gains over the next couple of months only 2 times out of 12 precedents.

Stat Box



On Friday, nearly

40%

of Health Care stocks were overbought. According to our Backtest Engine, there have been 43 other days with this high of reading in the past 20 years, preceding an average 1-month return in XLV of -0.6%.
What else we're looking at
More details on the commodity surge, including impacts on other markets
Among commodities, corn is showing a setup between seasonality, trend, and sentiment

The post titled Commodities haven't done this in 50 years was originally published as on SentimenTrader.com on 2021-04-26.
At SentimenTrader.com, our service is not focused on market timing per se, but rather risk management. That may be a distinction without a difference, but it's how we approach the markets. We study signs that suggest it is time to raise or lower market exposure as a function of risk relative to probable reward. It is all about risk-adjusted expectations given existing evidence. Learn more about our service , research, models and indicators.
Follow us on Twitter for up to the minute analysis of market action.
Follow @sentimentrader