Commodities Have Done This 9 Other Times Since 1933
---
---
On Tuesday, we saw that the 4-month start to stocks this year has had some impressive precedents. While most of the similar years witnessed some consolidation during the summer months, the long-term implications were positive.
Commodities have arguably had an even more impressive start. The long-term trend in stocks is well-documented to be higher as companies innovate and produce profits, but commodities are much more cyclical. As prices rise, farmers plant more crops, or miners dig more stuff out of the ground, and prices go down. It's hard to sustain uptrends except when there is a massive supply/demand imbalance.
Using the same methodology we used for stocks, we see that 9 other years since 1933 had a correlation greater than +0.7 (on a scale of -1.0 to +1.0) through the first 4 months of the year.
We can see the last 4 analogs in the chart below.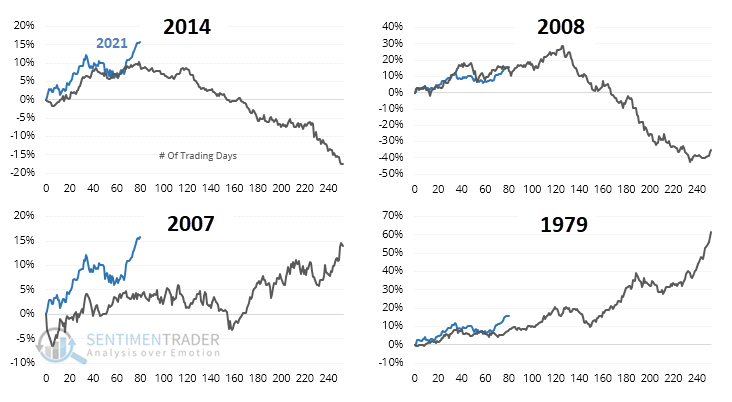 The years all showed gains through April and enjoyed a roughly similar path to get there, but the only year with a better 4-month beginning was 1973. Commodity bulls would love to see a repeat, as it preceded massive additional gains.

Stat Box



On the Nasdaq exchange, a Hindenburg Omen has triggered. This technical warning sign was flared up

45

times in the past 10 years. According to our Backtest Engine, the Nasdaq 100 rallied over the next month after only 14 of those sessions.
What else we're looking at
Full details on the years with the highest correlation in commodities to 2021
Future returns for the Bloomberg Commodity Index from April for those years
A signal that's suggesting caution for tech stocks
What happens when 80% of stocks in the Germany DAX trade below their 200-day moving averages

Related Posts:
---
Tagged As:
The post titled Commodities Have Done This 9 Other Times Since 1933 was originally published as on SentimenTrader.com on 2021-05-07.
At SentimenTrader.com, our service is not focused on market timing per se, but rather risk management. That may be a distinction without a difference, but it's how we approach the markets. We study signs that suggest it is time to raise or lower market exposure as a function of risk relative to probable reward. It is all about risk-adjusted expectations given existing evidence. Learn more about our service , research, models and indicators.
Follow us on Twitter for up to the minute analysis of market action.
Follow @sentimentrader