Chinese Tech Is Washed Out and Smart Money Is Buying
---
---
Few markets have suffered more of a barrage of uncertainty and negativity this summer than Chinese stocks. Technology-related issues have been hit particularly hard from all sides.
Based on the last 15 years of history, they've reached a point of maximum pessimism.
The most popular domestic fund for trading Chinese internet stocks is KWEB, based on the CSI Overseas China Internet Index. The index has just over 50 member stocks, and it's hard to find an uptrend among them.
During mid-August, precisely 0% of these stocks were trading above their 50-day moving averages. That spiked to around 40% during a relief bounce and has since slid back under 10% as recently as last week.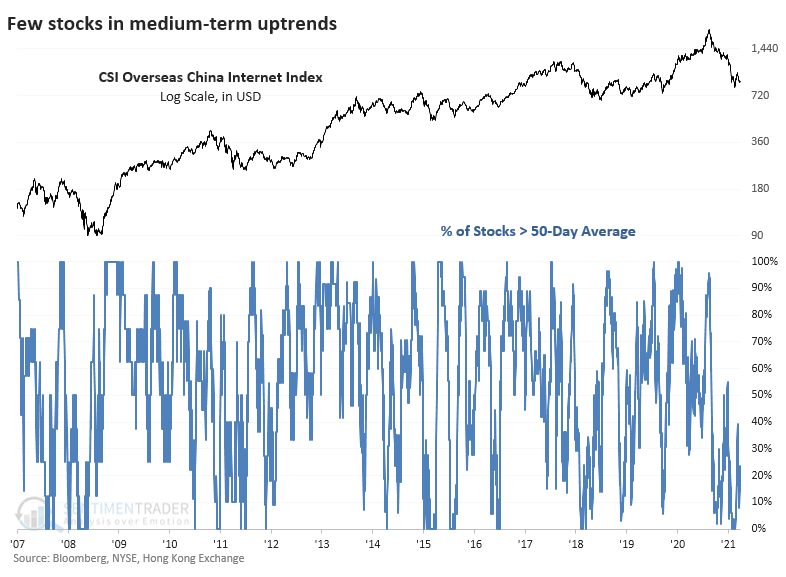 It's an even uglier picture when looking at the percentage of these stocks in long-term uptrends. In recent days, only 4% of them have closed above their 200-day moving averages, ranking among the very worst readings in available history.
The plunge in late July caused more than 50% of Chinese 'net stocks to fall to a 52-week low, only the third time in 15 years that so many have done so at the same time. Many are gyrating around those low prices, and on any given day, between 10% - 25% of stocks have been setting fresh 52-week lows.

---
What else we're looking at
An in-depth look at various breadth metrics for Chinese technology stocks
How this compares to past panics
One particular company has been buying back its own shares, and a detailed look at its track record
---
Stat box



On Thursday, the S&P 500 ended a run of more than 200 days of being within 5% of its latest 52-week high. That was one of only 10 such streaks since 1928.
---
Etcetera
Winding down. Investor sentiment is retreating rapidly from optimism, and behavior has flipped to risk-off mode. This is the first time that our Risk-On / Risk-Off composite has been below 50% on consecutive days since May 2020. That's a record dating back 22 years.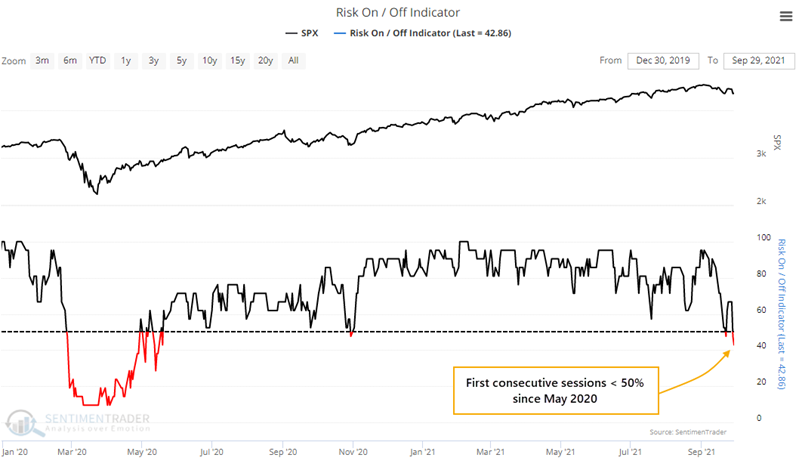 Looking for liquidity. One of the dozens of indicators in the Risk-On / Risk-Off composite is the Liquidity Premium. This shows the demand from traders for the most liquid instruments available and rises when traders panic.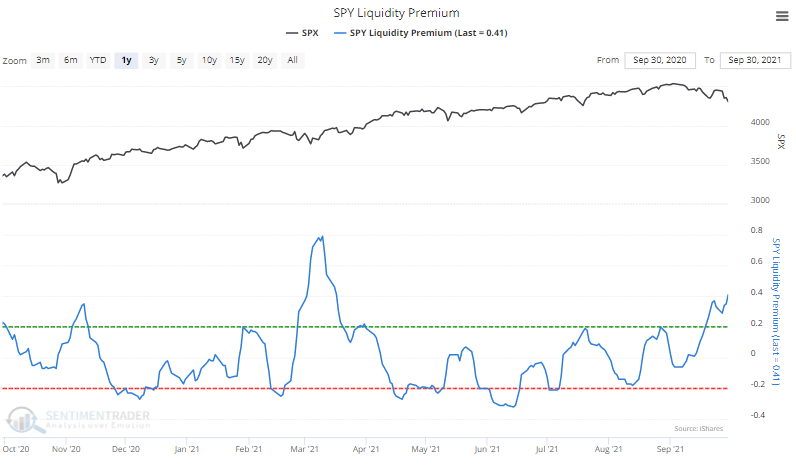 Half in correction. More than 50% of S&P 500 companies are now in a correction, down at least 10% from their highs. During healthy markets, this usually stays below 40%. Risk of a sustained pullback is higher in the indexes when most of its member stocks are struggling.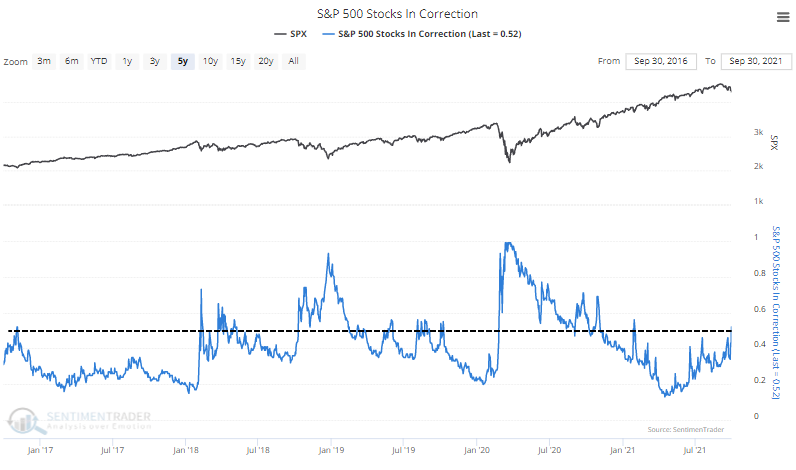 The post titled Chinese Tech Is Washed Out and Smart Money Is Buying was originally published as on SentimenTrader.com on 2021-10-01.
At SentimenTrader.com, our service is not focused on market timing per se, but rather risk management. That may be a distinction without a difference, but it's how we approach the markets. We study signs that suggest it is time to raise or lower market exposure as a function of risk relative to probable reward. It is all about risk-adjusted expectations given existing evidence. Learn more about our service , research, models and indicators.
Follow us on Twitter for up to the minute analysis of market action.
Follow @sentimentrader