Chinese stocks haven't done this for 5 years
---
---
Last week, we saw that there has been a remarkable thrust in breadth among global markets.
But not everyone is participating. Appetite for trading in China has wanted, as Bloomberg recently noted. The lack of enthusiasm is even more pronounced among those trading on margin. Turnover in margin accounts over the past month has sunk dramatically.
It's not hard to see why. The average stock in that market has been declining for months, even if some of the major Chinese indexes have held up despite that deterioration. The Cumulative Advance/Decline Line for the Shanghai Composite is challenging its 5-year low.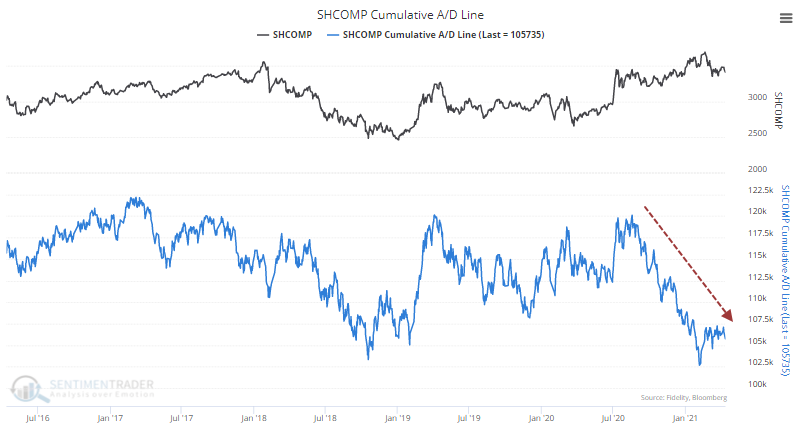 This activity has pushed the McClellan Summation Index for the Shanghai below zero...and kept it there. This is exactly the opposite of what we see in a healthy market environment.
We're seeing similar behavior when looking at the percentage of stocks in the Shanghai that are trading above their moving averages. Even so, investors in large-cap China funds like FXI are showing optimism, not pessimism.

Stat Box



Exactly

0

of our core indicators have shown any amount of pessimism for at least 5 consecutive days. Our Backtest Engine calculates that in the past 22 years, only 84 other days have met this condition of a full week with no pessimism.
What else we're looking at
A look at important breadth metrics on the Shanghai Composite
Twitter users, and ETF traders, are still bullish on FXI
Using our Backtest Engine to look at returns following extremes in Bear Market Probability
A detailed look at Vietnam, potentially the best of emerging markets

Related Posts:
---
Tagged As:
The post titled Chinese stocks haven't done this for 5 years was originally published as on SentimenTrader.com on 2021-04-15.
At SentimenTrader.com, our service is not focused on market timing per se, but rather risk management. That may be a distinction without a difference, but it's how we approach the markets. We study signs that suggest it is time to raise or lower market exposure as a function of risk relative to probable reward. It is all about risk-adjusted expectations given existing evidence. Learn more about our service , research, models and indicators.
Follow us on Twitter for up to the minute analysis of market action.
Follow @sentimentrader