CFOs Are Getting More Confident (But Their Bosses...)
---
---
Corporate insiders, CEOs and CFOs, are becoming more optimistic as stock market indexes break out.
Insiders show diverging sentiment
In recent quarters, corporate CFOs have become more optimistic after a long time expecting declining conditions. At the same time, their bosses (CEOs) have continued to edge further into cautious territory. For CFOs, they're nearing their first quarter of net optimism in years.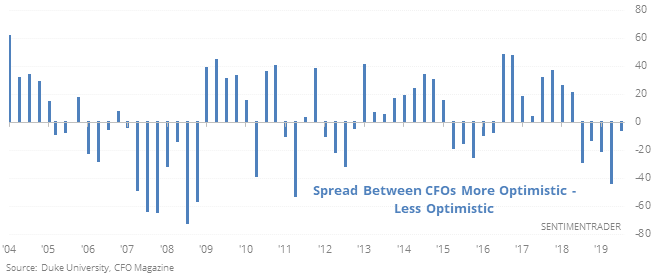 When we combine CFO and CEO optimism into a single measure, we can see that overall, they're still more cautious than they usually are. And while there is a strong tendency to consider these insiders to be prescient, there isn't a lot to conclude from this. Their caution was a great warning ahead of the 2008 meltdown, but other than that, their behavior has been more like Chicken Little than Carnac the Magnificent.
Breakouts Galore
The U.S. stock market was among the first to breakout to new all-time highs this year. And now amidst a stream of positive trade war developments, indices that were more beaten down by the trade war (e.g. emerging markets) are also making new all-time highs. For example, the NYSE Composite Index just broke to a new high.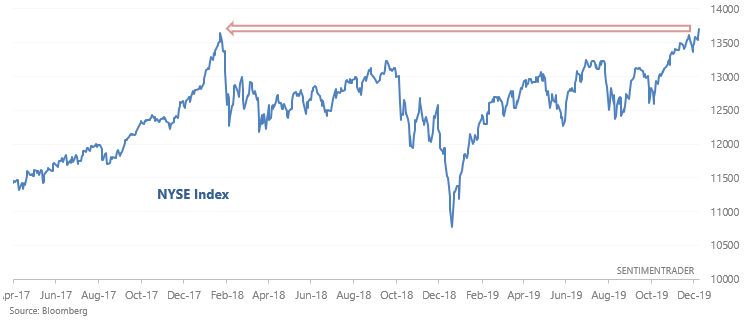 When it did so in the past, the NYSE Index typically rallied over the next 3 months and 1 year, as did the S&P 500.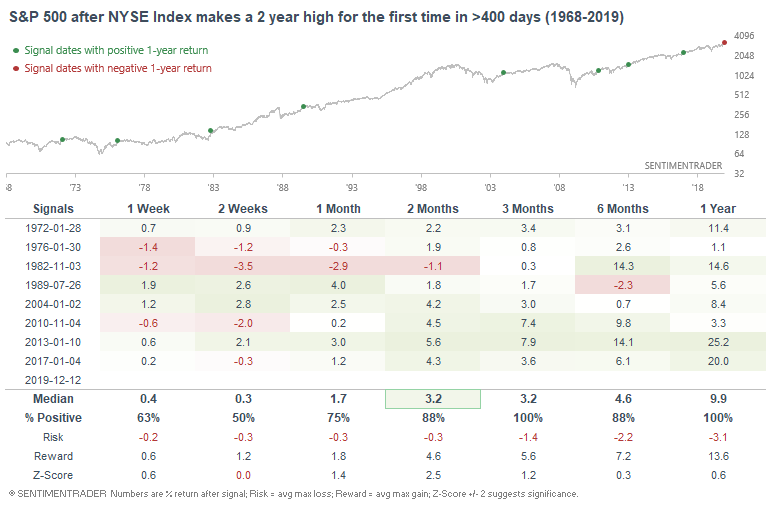 While the sample size is small, it's hard to ignore a perfect record.
This is an abridged version of our recent reports and notes. For immediate access with no obligation, sign up for a 30-day free trial now.
We also looked at:
SPY volume is one of the lowest in history, relative to its one-year range
The S&P hasn't had a 1% down day in 45 sessions
What happens after the MSCI All World Index breaks out
Net new highs - new lows is surging
Financials are hitting new highs, too
The Equity Put/Call Ratio plunged
Taking a look at other new highs in the British pound

The post titled CFOs Are Getting More Confident (But Their Bosses...) was originally published as on SentimenTrader.com on 2019-12-13.
At SentimenTrader.com, our service is not focused on market timing per se, but rather risk management. That may be a distinction without a difference, but it's how we approach the markets. We study signs that suggest it is time to raise or lower market exposure as a function of risk relative to probable reward. It is all about risk-adjusted expectations given existing evidence. Learn more about our service , research, models and indicators.
Follow us on Twitter for up to the minute analysis of market action.
Follow @sentimentrader