Calm Conditions Reign As Economic Reports Stink
---
---
Calm again
Options traders are once again pricing in a narrow trading range for the S&P 500 in the month(s) ahead. The VIX has declined sharply and is below 15 for the first time in almost 90 days.

The ends of other long streaks above 15 have led to a rise in the VIX every time, along with Low Volatility stocks. High beta stocks suffered the most.
Unpleasant surprises
Economic surprises in the U.S. have turned decidedly negative in recent weeks. The Bloomberg Economic Surprise Index is now the lowest since 2016.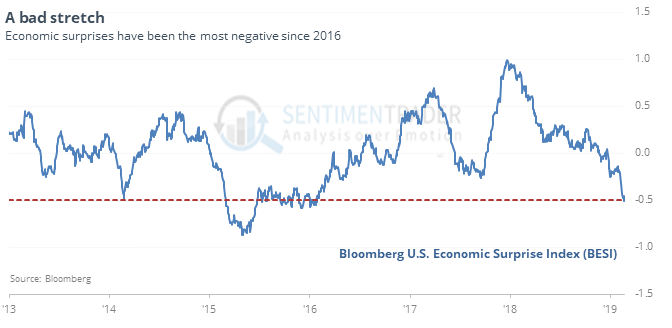 Other times it sunk this far since the year 2000, future returns for the S&P 500 were poor. The VIX and 10-year Treasuries rose, the dollar was mixed, gold did okay, and commodities did not.
Overbought
More than a quarter of all S&P 500 stocks, and more than 30% of S&P 1500 stocks, had a Relative Strength Index above 70 heading into Thursday's session. For the S&P, that has preceded weak shorter-term returns, or at least limited and temporary upside.
New highs
Utilities stocks have been on a tear on all time frames. Now more than 90% of them are above their 10-day averages, and all S&P 500 Utilities stocks are above their 50- and 200-day averages. Over the past 20 years, there have been 44 days when they done this well on all time frames.
This post was an abridged version of our previous day's Daily Report. For full access, sign up for a 30-day free trial now.

The post titled Calm Conditions Reign As Economic Reports Stink was originally published as on SentimenTrader.com on 2019-02-22.
At SentimenTrader.com, our service is not focused on market timing per se, but rather risk management. That may be a distinction without a difference, but it's how we approach the markets. We study signs that suggest it is time to raise or lower market exposure as a function of risk relative to probable reward. It is all about risk-adjusted expectations given existing evidence. Learn more about our service , research, models and indicators.
Follow us on Twitter for up to the minute analysis of market action.
Follow @sentimentrader