Buyers have come for the little guys
---
---
It's been one heck of a nice couple of weeks for small-cap stocks. As recently as a few weeks ago, there was a lot of talk about their relative weakness and how they tend to lag during Q4. Not so much anymore.
Over the past two weeks, the small-cap Russell 2000 has surged more than 11%, one of its largest 10-day gains since inception.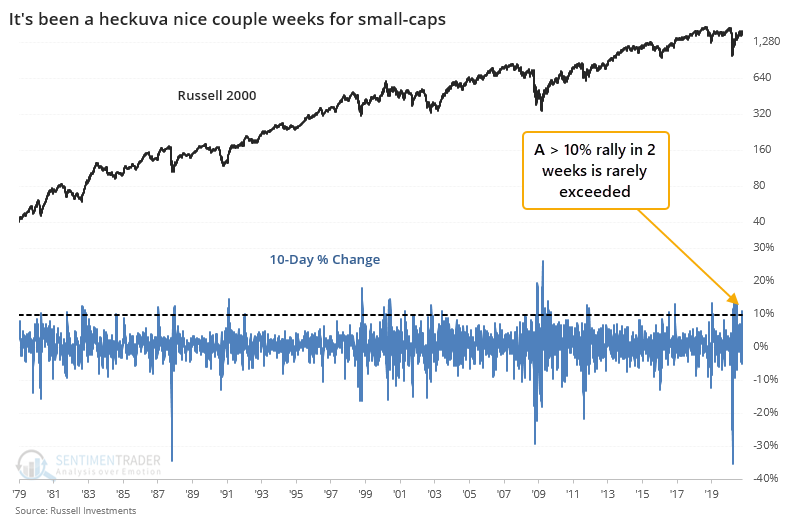 This kind of rebound typically happens after severe weakness, either on a relative or absolute basis. Either way, there have been only 20 distinct times over the past 40 years when the index shot higher by at least 10% over a 10-day stretch.
When buying interest was so intense, it tended to generate even more excitement. During the next month, there was a 60% probability of a big rise versus only a 5% probability of a big drop.
This is an abridged version of our recent reports and notes. For immediate access with no obligation, sign up for a 30-day free trial now.
We also looked at:
Full tables showing forward Russell 2000 returns and the probabilities of a big gain or big loss over various time frames
How surges in the Russell impacted the broader stock market
This year has seen a near-record number of 80% up days
More and more stocks are rising above their 200-day moving averages
Emerging market stocks are throwing off MACD buy signals
The Dow Transports hit a new high for the 1st time in 2 years - how it's responded in the past (hint: not great)

The post titled Buyers have come for the little guys was originally published as on SentimenTrader.com on 2020-10-09.
At SentimenTrader.com, our service is not focused on market timing per se, but rather risk management. That may be a distinction without a difference, but it's how we approach the markets. We study signs that suggest it is time to raise or lower market exposure as a function of risk relative to probable reward. It is all about risk-adjusted expectations given existing evidence. Learn more about our service , research, models and indicators.
Follow us on Twitter for up to the minute analysis of market action.
Follow @sentimentrader