Bulls' nightmare week
---
---
Historic selloff
This is one of those times that happen every few years when we could spend page after page listing extremes. It's not quite to the extent of Christmas Eve 2018, though.
If we distill the most important part of the moves over the past two days, it likely comes down to the shock dealt to investors that had not witnessed this kind of price action in years, if ever. Just a few sessions ago, stocks were sitting at all time highs, and the discussion was about how resilient stocks are. Now, there are whiffs of panic.
That can happen when stocks go from sitting at all-time highs to wiping away more than two months of gains in less than a week. It hasn't happened very often.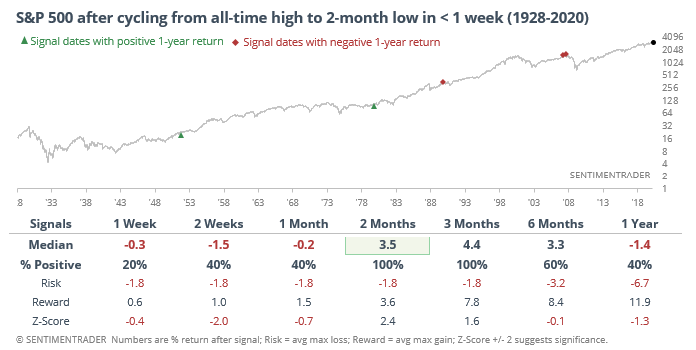 Historical comparisons like this always generate "actually…" kinds of comments. We've never had a period with such aggressive Fed manipulation. Or passive investing demand. Or a global pandemic. Or, or, or. As always, every moment in the market is unique, and there is never an exact precedent.
But if we look at behavior through various prisms, sometimes a consistent pattern will emerge. We're seeing that with many of the studies that have triggered over the past two days.
Double down
Among many extremes, selling pressure has been intense over the past two sessions. On the NYSE, more than 90% of issues fell on Monday and Tuesday: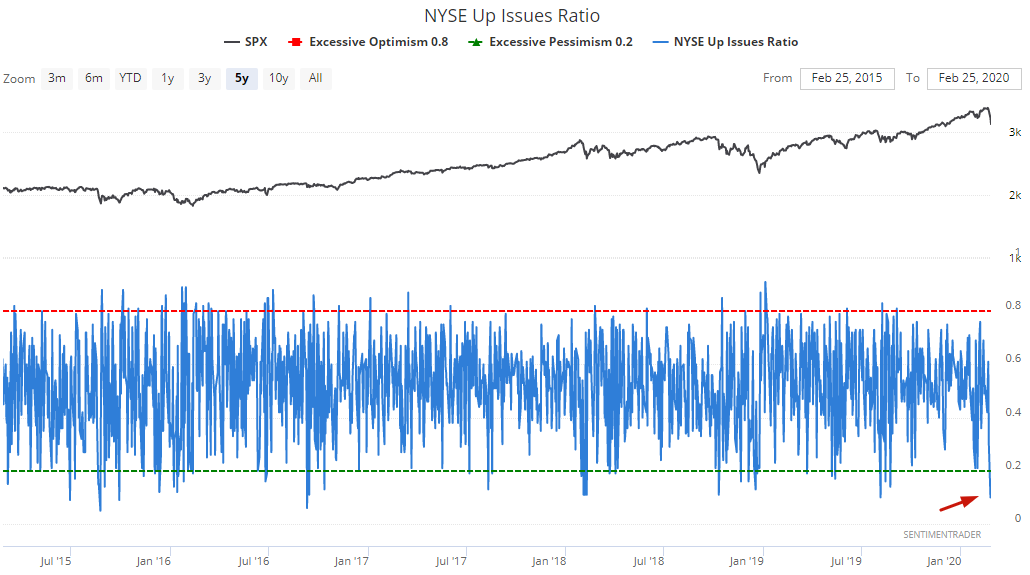 There have only been a few other historical cases with 2 days of such widespread selling. Historically, the S&P rallied over the next 2-12 months.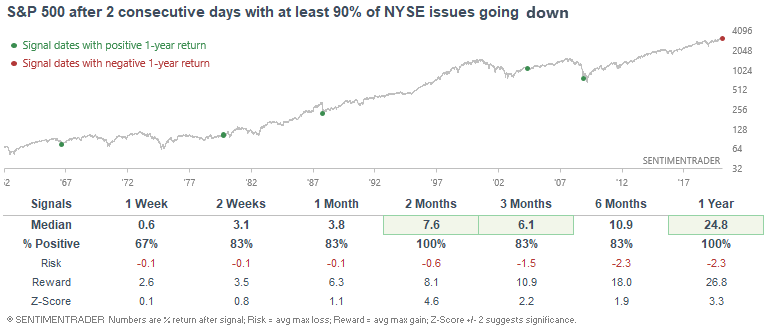 This is an abridged version of our recent reports and notes. For immediate access with no obligation, sign up for a 30-day free trial now.
We also looked at:
The S&P suffered consecutive 2 standard deviation losses
A bunch of S&P stocks are below their lower Bollinger Bands
Almost all of them are below their 10-day moving averages, too
What happens after the S&P pulls back 7% for the first time in over a year
The "old VIX" spiked above 30 for the first time in a year
What happens when the VIX gets this overbought
SPY volume has spiked
Energy sector breadth is showing signs of a true extreme

Related Posts:
---
Tagged As:
The post titled Bulls' nightmare week was originally published as on SentimenTrader.com on 2020-02-26.
At SentimenTrader.com, our service is not focused on market timing per se, but rather risk management. That may be a distinction without a difference, but it's how we approach the markets. We study signs that suggest it is time to raise or lower market exposure as a function of risk relative to probable reward. It is all about risk-adjusted expectations given existing evidence. Learn more about our service , research, models and indicators.
Follow us on Twitter for up to the minute analysis of market action.
Follow @sentimentrader