Bubble talk is bubbling up
---
---
One of the silliest tropes when it comes to markets is that we can't be in a bubble if everyone thinks we're in a bubble. That's garbage. Most of the time, the idea that markets are bubbly is foremost in investors' minds. They just think that they will be able to sell to a greater fool.
Currently, there has been a lot of talk about bubbles; ergo we're not in one. This is one of those places where investors try to get cute about being contrarian, and it's easily disproven.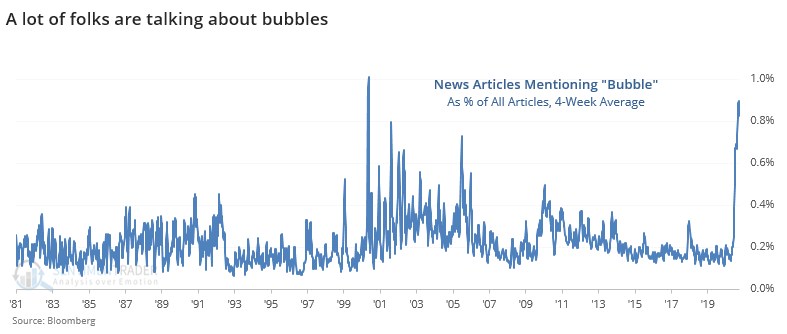 Over the past 4 weeks, articles mentioning "bubble" have averaged about 0.9% of stories in the Bloomberg database of sources. The only time this was higher was April 2000. Clearly, investors were cognizant of the likelihood we were in a bubble at the time, and yet that didn't prevent it.
When the 4-week average of these articles was more than 0.45% of the total, the S&P 500 returned an annualized +3.0%, but when there were relatively few "bubble" articles, that return jumped to +27.1%. The more that investors thought that they were in a bubble, the worse that forward returns were. Knee-jerk contrarianism would have us believe the opposite.
This is an abridged version of our recent reports and notes. For immediate access with no obligation, sign up for a 30-day free trial now.
We also looked at:
Annualized returns when "bubble" articles are high vs. low
While Main Street articles focus on bubbles, Main Street ones are near-depression levels
Our Macro Index has turned higher
Using sentiment models as trend-following tools

The post titled Bubble talk is bubbling up was originally published as on SentimenTrader.com on 2020-10-05.
At SentimenTrader.com, our service is not focused on market timing per se, but rather risk management. That may be a distinction without a difference, but it's how we approach the markets. We study signs that suggest it is time to raise or lower market exposure as a function of risk relative to probable reward. It is all about risk-adjusted expectations given existing evidence. Learn more about our service , research, models and indicators.
Follow us on Twitter for up to the minute analysis of market action.
Follow @sentimentrader