Breakouts haven't been this good since 2016
---
---
The biggest thing this rally has had going for it is broad participation. It's not slowing down much.
Over the past week, nearly 10% more securities trading on the NYSE and Nasdaq managed to tick at a 52-week high than fell to a 52-week low. That's the most in almost exactly 4 years.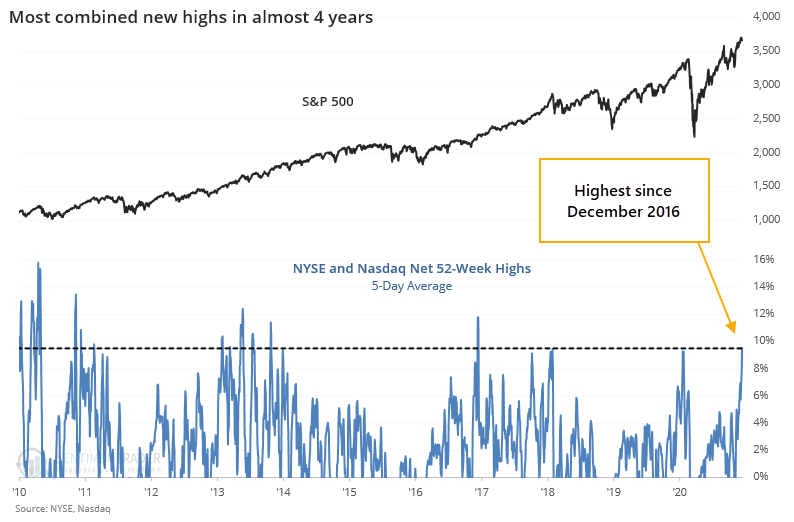 If that sounds like a long time, it's because it is. This ends the 3rd-longest streak in almost 60 years with fewer than a net 9.5% of securities at new highs over a 5-day period.
After other times since 1962 when we ended a streak of at least 2 years with fewer than 9.5% of issues at a new high across both exchanges, forward returns were impressive, and eerily consistent, over the medium- to long-term.
---
What else is happening
These are topics we explored in our most recent research. For immediate access with no obligation, sign up for a 30-day free trial now.
Full returns in the S&P 500 and Nasdaq Composite after ending a long streak without a big spike in net new highs
Also following lesser extremes
The dominance of new highs has triggered an extreme in the HiLo Logic Index
An unusual setup between the McClellan Oscillator and its Summation Index
---
Stat Box

An average of $450 million per day over the past week has flowed out of the go-to ETF focused on the high-yield bond market, HYG. That's among the largest outflows in its existence. There have been 24 other days with a 5-day average outflow of $450 or more, which preceded a higher price for HYG a month later 19 times.
---
Sentiment from other perspectives
We don't necessarily agree with everything posted here - some of our work might directly contradict it - but it's often worth knowing what others are watching.
1. Folks just cannot get enough exposure to upside potential. The total volume of contracts that profit when stocks rise has exceeded 20 million for the first time in nearly 30 years. [Charles Schwab]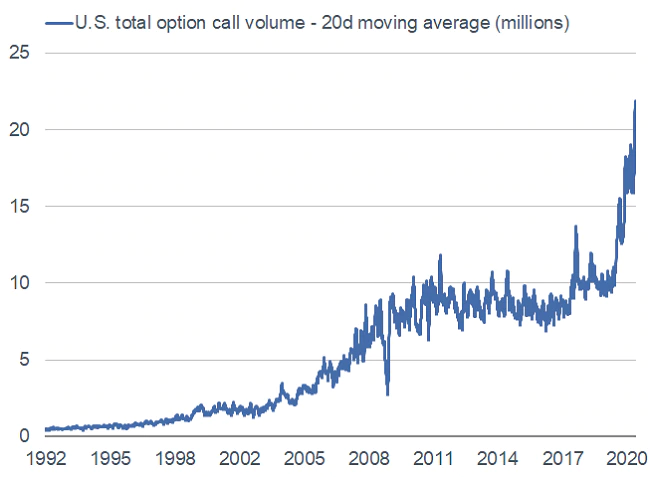 2. It's pretty easy to get all bulled up when investors have never seen easier financial conditions. Based on multiple fundamental and market-based inputs, the Goldman Sachs Financial Conditions indicator has dropped to a new low (the lower it goes, the easier things are). [Bloomberg TV]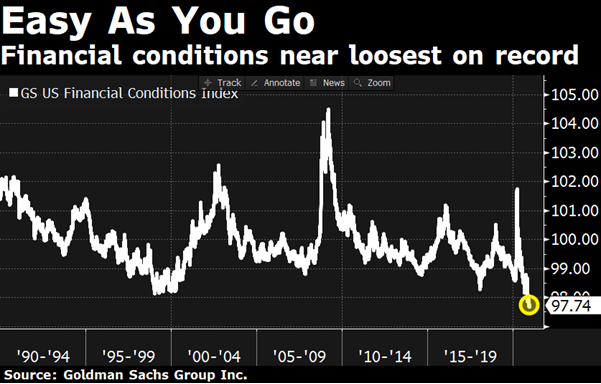 3. One place where investors aren't overly positive is the U.S. dollar, where asset managers have moved to a record short position. [Bloomberg TV]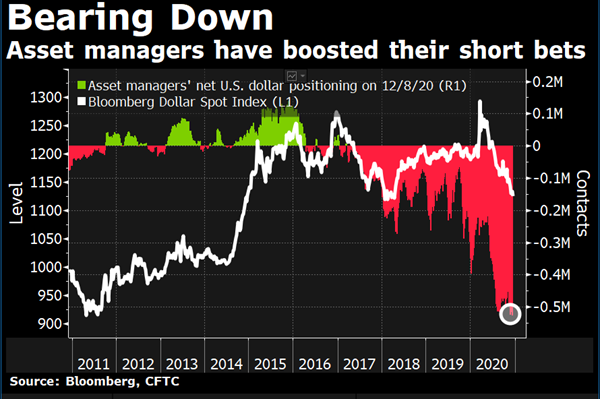 The post titled Breakouts haven't been this good since 2016 was originally published as on SentimenTrader.com on 2020-12-16.
At SentimenTrader.com, our service is not focused on market timing per se, but rather risk management. That may be a distinction without a difference, but it's how we approach the markets. We study signs that suggest it is time to raise or lower market exposure as a function of risk relative to probable reward. It is all about risk-adjusted expectations given existing evidence. Learn more about our service , research, models and indicators.
Follow us on Twitter for up to the minute analysis of market action.
Follow @sentimentrader